Why can't I print with uniFLOW?
Canon uniFLOW
Canon uniFLOW is the best choice for anyone looking for intelligent software for print management or a software platform that can be used to optimize workflows around multifunctional systems. uniFLOW is a modular one Print management software for streamlining and optimizing the workflows in companies, institutions and authorities and takes over the recording, control and billing of all printing, scanning and copying processes in your office in an intelligent way - even across locations. The uniFLOW Software for even better print management helps you to perfectly coordinate the various functions of multifunctional systems and to integrate them into your everyday work. So offers Canon a solution with which not only communication and working methods can be made more efficient and productivity increased, but also with which costs can be reduced.
Because uniFLOW has a modular structure and is integrated into the hardware of your Canon Multifunctional systems integrated or compatible with models from other manufacturers, the system can be put together entirely according to your requirements. A mixed fleet of printers can also be optimally managed with it! All processes are controlled so that administrators only have a single system with user accounts and one Database need to manage. Canon uniFLOW is also particularly user-friendly: users can use the functions assigned to them by means of a simple login process and the intuitive user interface Guided through all processes step by step. Since uniFLOW also tracks and controls all user activities, this print management software also guarantees full usage and cost control.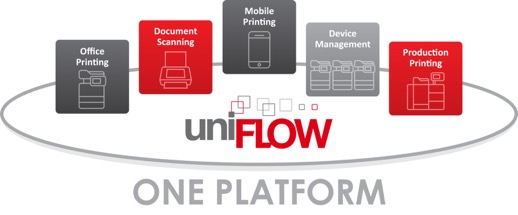 Canon uniFLOW supports across all devices and platforms as well as in mobile work environments - the central one Management of the printing infrastructure is of course retained. Thanks to Apple AirPrint certification, iPad, iPhone and Mac users also benefit from the functions of this modular software solution. Also the Guest pressure is possible with uniFLOW. Print jobs can be sent from any device to an email address provided, which is monitored by uniFLOW. If the software recognizes the sender address as an employee, the print job ends up in its personal queue. Guests receive a PIN code by email to activate a multifunctional system. The guest functions can be configured individually. After Authentication the guest only sees his print job and can only print this out. Work productively and efficiently anywhere, anytime? Print and scan from your mobile device? With uniFLOW a matter of course! Of course, safety standards are not neglected.
Advantages of uniFLOW at a glance
Optimal document workflows
Ease of use & high user-friendliness
Can also be used with mixed printer fleets (multi-brand support)
Cross-location use also in mobile work environments & as guest printing
Use across all devices and platforms
Full transparency and control over usage and costs
Rule-based printing & redirecting
User / user group-related function releases via ActiveDirectory
High security standard thanks to encryption, compression & secure printing module
Advanced Scanning & Scan to Fax
Accounting & statistics modules
Compatible with Canon Océ PlotWave, ColorWave & Océ PRISMAdirect
Status management via SNMP messages
Manufacturer-independent universal printer driver
Regardless of which model from which manufacturer you want to use uniFLOW, there is only one driver that is used for all printers and Multifunctional systems is usable. This technology is protected by over 20 patents worldwide. The clear and very easy-to-use driver shows the user all functions and settings on one page. For IT, the Administrative burden to a minimum, as only a single driver needs to be maintained. The uniFLOW logo displayed in the driver can be replaced by your logo. With the manufacturer-independent Universal printer driver you can print to any kind of network printer and always use the same driver. FollowMe printing is even carried out on single-user printers using microMIND. If the device has a small display, the jobs can even be selected - otherwise all jobs are printed from a queue.
With the manufacturer-independent release station let's expand multi-brand support. With the touchscreen terminal attached directly to the system with an integrated Card reader you get access to your personal queue. It enables you to register new authentication cards or allows guests to print from mobile devices and access them via the release station. The release station can be connected to any network-compatible Multifunctional system can be connected - regardless of the manufacturer!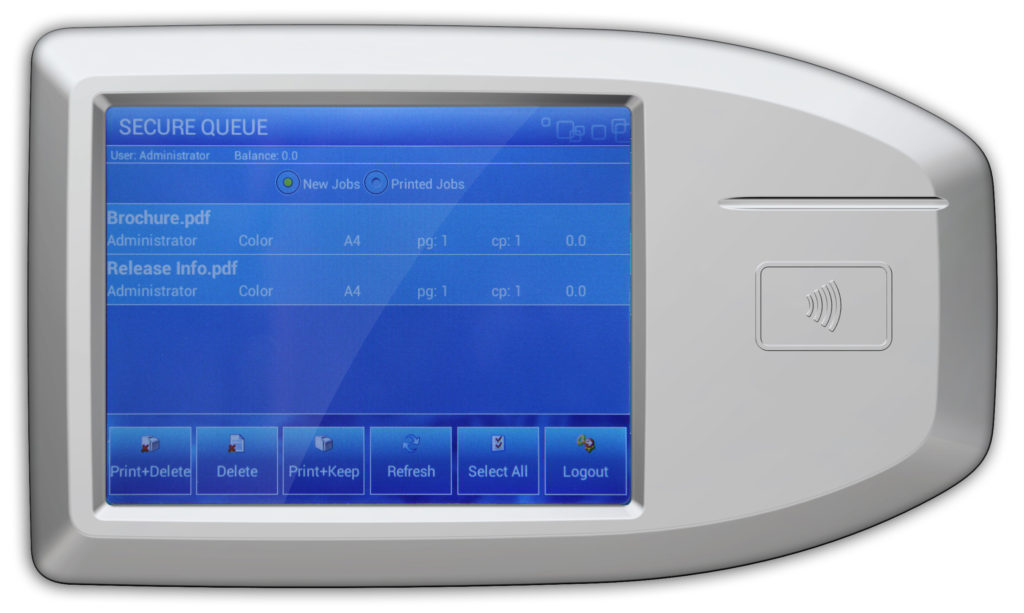 Secure Printing: Security & Cost Savings
Confidential documents require special measures. Thanks to the Secure Printing module from uniFLOW, Confidential Send to all network printers in the system without hesitation, because the order is only printed out as soon as the customer has identified himself personally at the printer. Jobs can be sent to the secure queue with any device integrated in the system, regardless of location. The user can be identified on the system by PIN, user name and password, magnetic stripe, smart or transponder card and afterwards ID select the jobs directly on the screen of the multifunctional system. The print settings and finishing options can be changed again before printing, the order can be deleted at the touch of a button - and all of this while maintaining discretion and confidentiality.
A nice side effect of the secure printing with uniFLOW: There are no costs for an additional workstation printer for confidential matters and it also saves toner and paper. The Secure Printing Module puts a stop to forgotten print jobs, which result in a lot of waste paper and high toner consumption. Every print job that the user has not initiated on the printing system within a certain period of time is automatically deleted and saved in the database as a saving posted.
As standard, print jobs are encrypted for additional document security. uniFLOW uses the AES-256 standard, which is also used for online banking. With the Compression method "Zlib" are compressed in the standard print jobs in order to reduce the network load.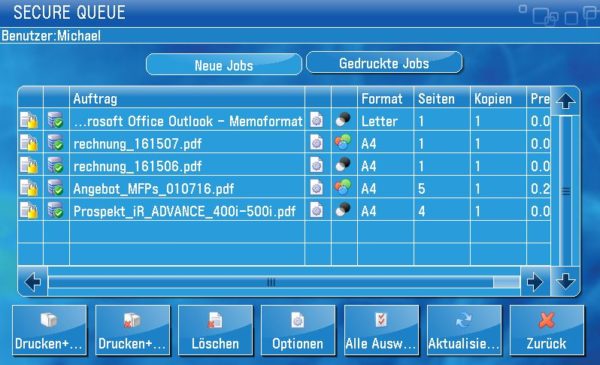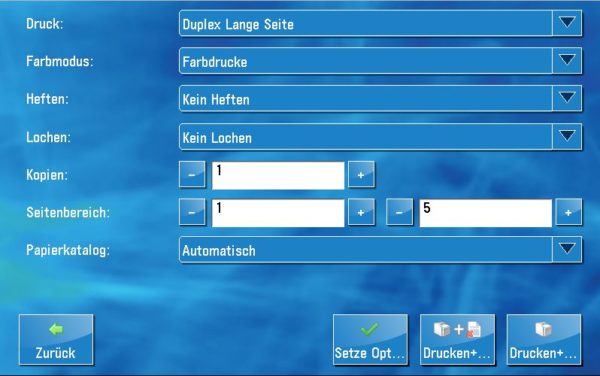 Advanced Scanning & Scan to Fax with uniFLOW
uniFLOW is the intelligent interface between the multifunctional system and downstream systems. Scans are not simply forwarded as an image file to e-mail addresses or folders, for example, but their contents are also extracted. For example, uniFLOW can use text recognition (OCR) to make scanned documents readable in 137 different languages. These searchable scans can easily be integrated into document management systems and retrieved using a keyword search. The height Compression ensures that the file size is reduced to a fraction. Sending scans by e-mail is made easier and the server is noticeably relieved. By the way, reducing the size of the file does not affect the quality - the scan is as good as the original.
All documents are sent from the multifunctional system as an image together with the fax number to the compatible fax server. This then takes over Sending faxes. This means that no fax cards, no analog extensions and no fax sockets are required any more.
The administrator can define specific workflows for each type of document (e.g. invoices). These can either be carried out manually by the user or automatically by uniFLOW after the Software solution recognized the document type.
User-specific workflows can be transferred to MEAP-compatible multifunctional systems, i.e. it does not matter which system is used for scanning - the processes remain the same. In the context of such Workflows the user can be obliged to enter information such as target folder, e-mail addresses, storage location in the document management system or index data / keywords on the multifunctional system. Such index data can also be automatically extracted from the scan filter out. For example, customer numbers can be read out automatically as soon as a template is processed as the "invoice" document type and forwarded to the document management system.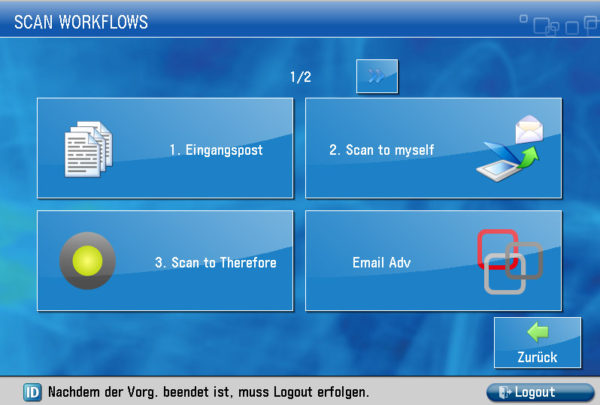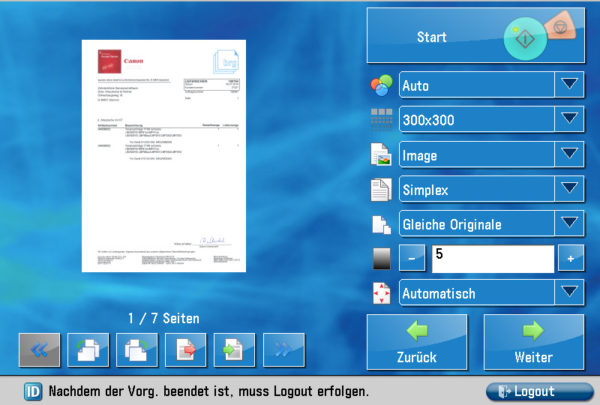 Accounting & Controlling with uniFLOW
If you want to reduce costs, you have to know where they are incurred. Organizations need clarity about which departments are printing the most to reduce potential waste. The Accounting module from uniFLOW registers all printing and copying processes on the network printers regardless of the manufacturer and saves this information in a database for later evaluations. The printers can be assigned up to 4 price profiles in order to e.g. Controlling make it possible to track internal and external costs. In companies, law firms or architectural offices that bill their customers for the printing costs incurred, users can be prompted to select the relevant cost center when printing or copying.
uniFLOW contains over 40 standardized Documentation and evaluation schemes. This diversity makes it possible to display the data material exactly the way your administrator or your finance department wishes it. Evaluations can even be scheduled, i.e. they are created in fixed cycles and automatically sent to those responsible by email. The Data can be exported in a variety of formats so that they can be integrated into existing Billing and accounting systems is purely a matter of form. New tailor-made reports can be written with Crystal Reports® and fed directly into uniFLOW in order to improve the Reporting options to expand and meet your company-specific requirements. The statistics module also contains evaluations that show which savings thanks to uniFLOW were achieved.



User-related function releases
The ActiveDirectory is often the leading system for all kinds of authorizations in the company. The existing structure of users, groups, file shares etc. is used by uniFLOW to provide or deny functions for certain users or user groups.
Examples of group-related function releases:
Marketing and sales are allowed to print in color
Only the accounting department is allowed to scan into the archive
Trainees are only allowed to print in black and white
All department heads are allowed to print in color
Commercial employees are only allowed to copy in black and white
The uniFLOW server synchronizes itself with your ActiveDirectory per task at a freely selectable interval. This eliminates administrative effort.