What is the dead Yovo market
My dear readers,
I spend every afternoon at Dantokpa, the largest market in West Africa. There is the Baraque SOS, another project of the Don Bosco sisters. Every day after lunch in the "Maison de l'Esperance" training center (also a project by the sisters) I walk a good 20 minutes through the market to get to the SOS bar. Dantokpa covers an area of ​​around 20 hectares (that's the size of 30 football fields put together!) And is located on the large canal that divides the entire city in half and leads from the sea to the large lagoon north of Cotonou. You can find almost everything on the market: exotic fruits, roots, rice, cornmeal and vegetables, fish and meat, sewing accessories, cosmetics and pearls, kitchen utensils, lots of colorful fabrics, proper departments for jewelry, bags, shoes and technology. Some of it is contraband from Nigeria, especially when it comes to alcohol, tobacco or electrical goods. There is an area where you can buy live animals (goats, rabbits, cats and poultry) and a huge second-hand section where you can get donated clothing.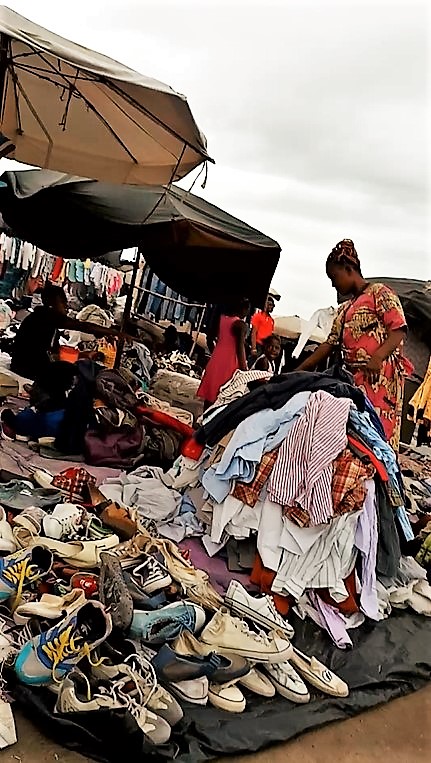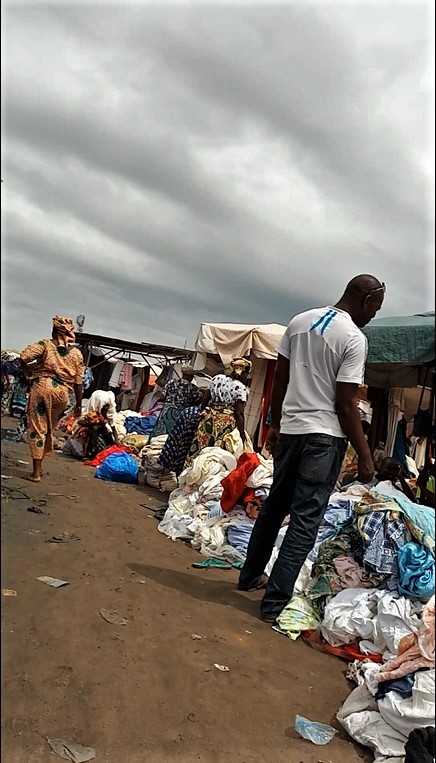 The fetish area is fascinating. In addition to traditional herbs and leaves, you can also get dead chameleons, skulls of monkeys and crocodiles, dried rats, starfish and animal skins. This is used for traditional ceremonies, because here in Benin the belief in voodoo and fetishes is very widespread.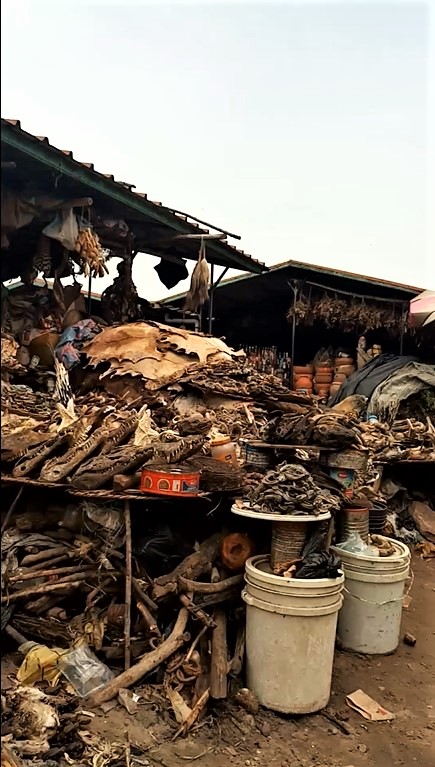 Going to the market still overwhelms my senses even after nine months that I've been in Benin. First of all there is just so much to see that I don't even know where to look first. A constant level of noise surrounds me, and smells of all kinds blow in from all sides. Most of the salespeople have their booth in a small hut that is close to each other. If you look at the market from above, you see a sea of ​​corrugated iron roofs.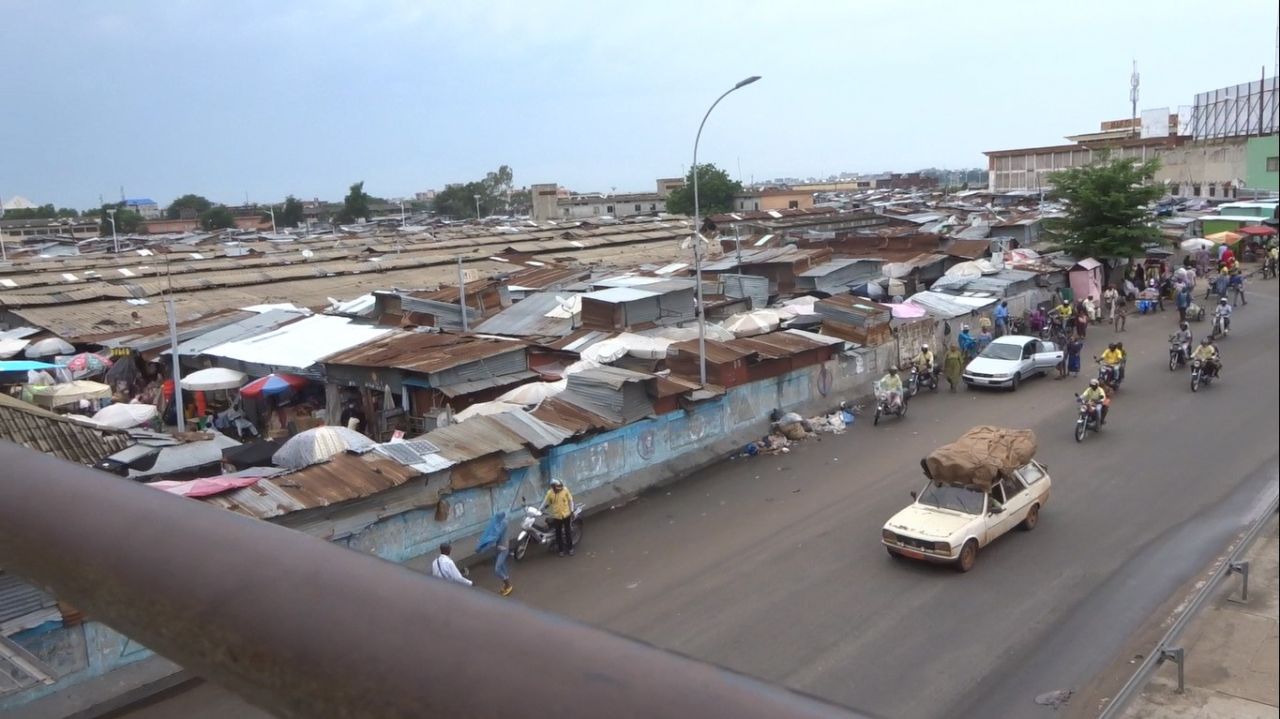 a small part of the market from above
Small, dark paths meander through the huts, there are some customers or saleswomen who do not have a stable footing and often carry their goods through the market with a baby, tied on their backs in a cloth.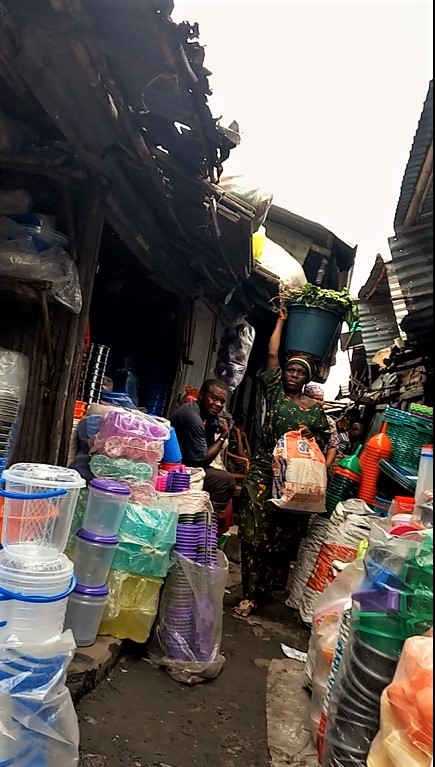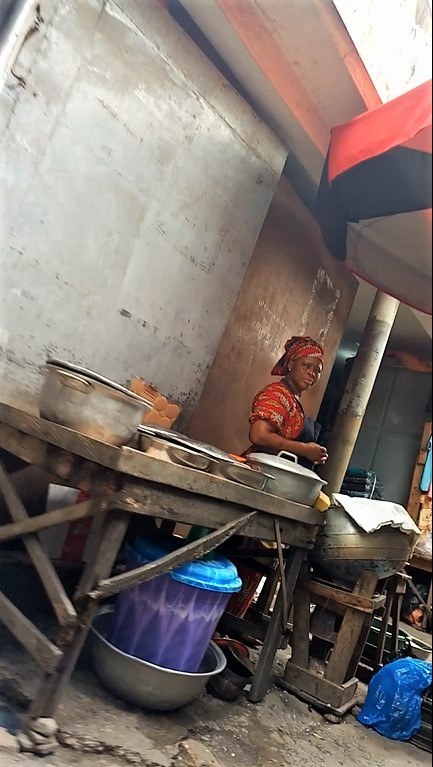 You can also get your lunch from several places in the market! Mostly it is corn porridge, rice or beans, always with a serving of grated chili.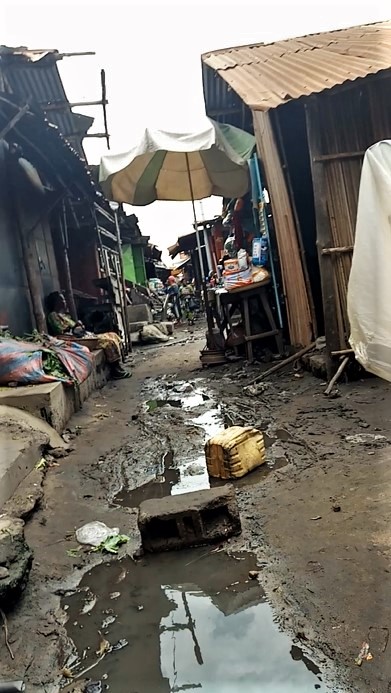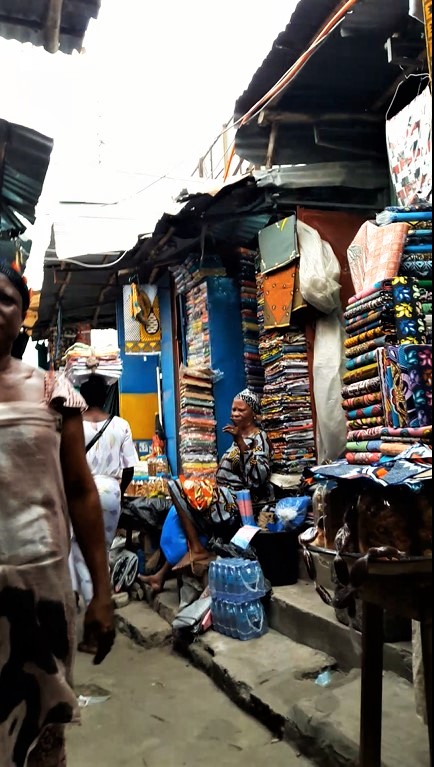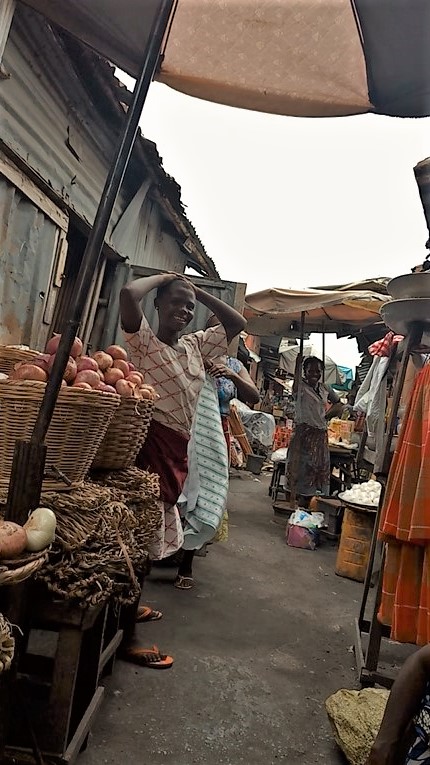 "Yovo, what are you looking for?"
There are also wider paths that go straight for a long time and are the busiest. There the sun always burns down really hot at noon, the saleswomen protect themselves against the heat with large parasols. Mostly they wear a bomba, a traditional Beninese robe consisting of a wrap skirt, a long-sleeved top and a headgear, all made of the same fabric. The many patterns and colors make the market even more colorful!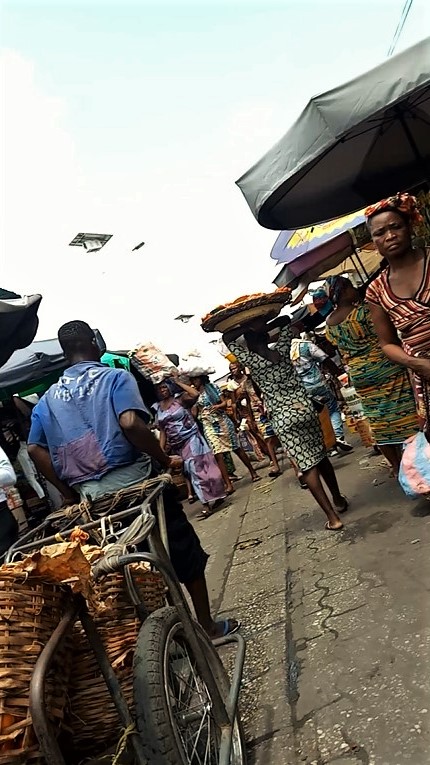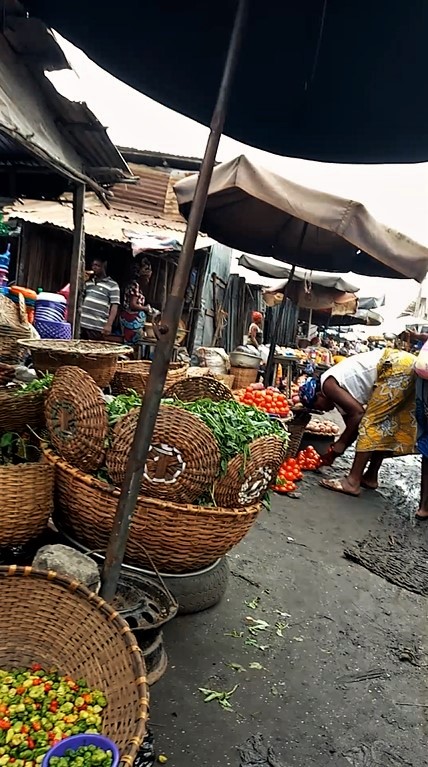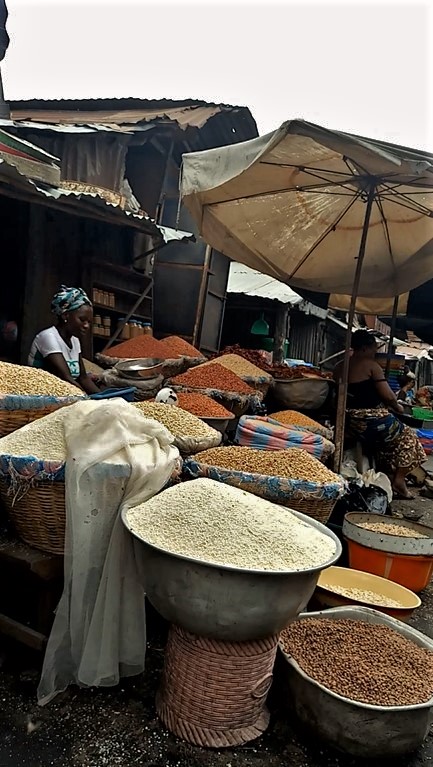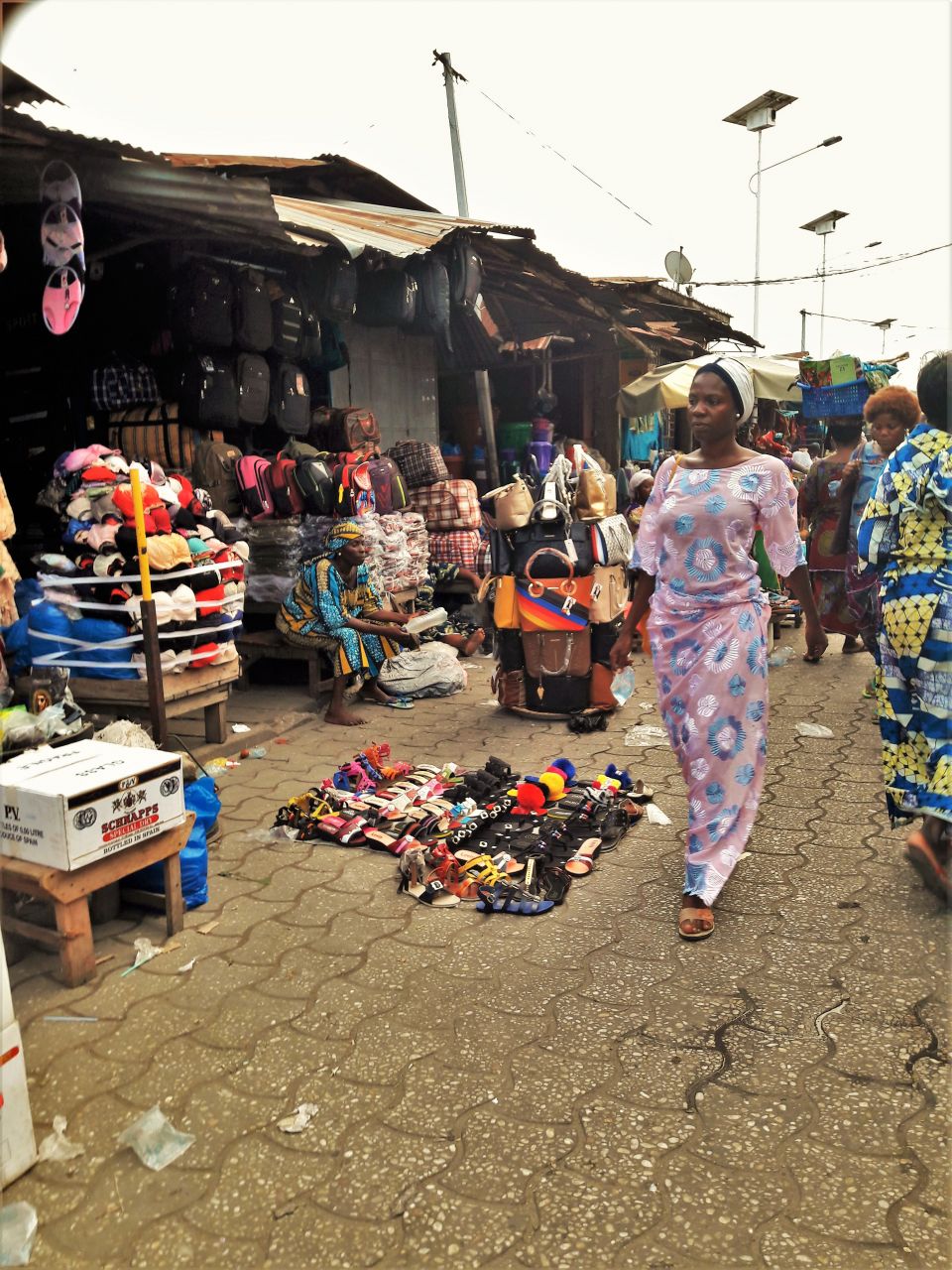 These women wear the traditional bomba. There was water in the plastic bags on the floor. Half a liter is available for 4 ct, the bags are torn open with your teeth in a corner, after drinking the plastic bags are often simply thrown on the floor, because there are no trash cans.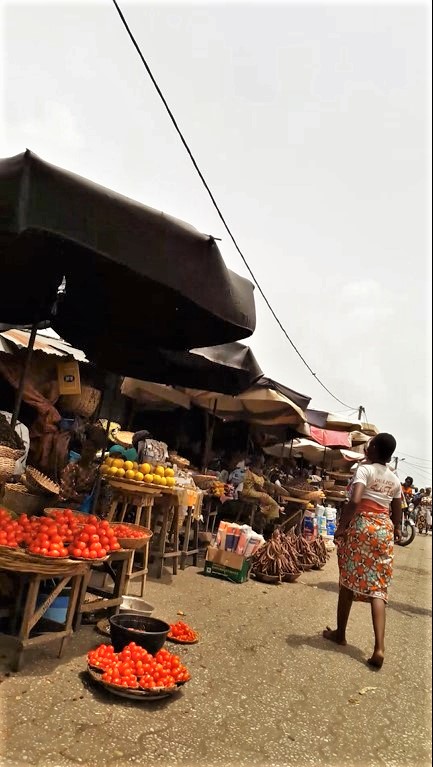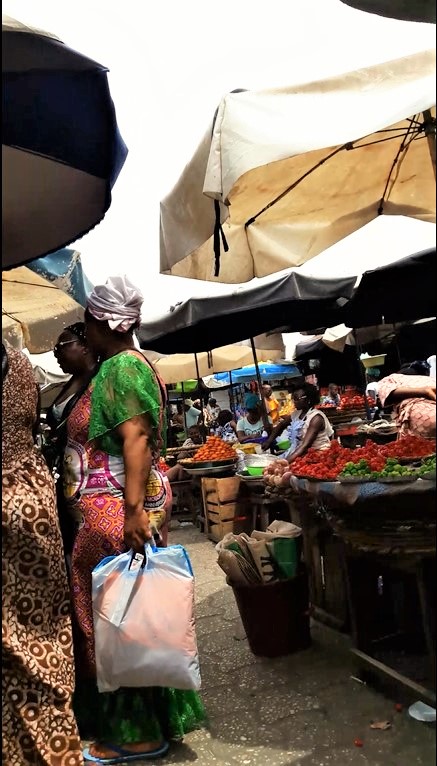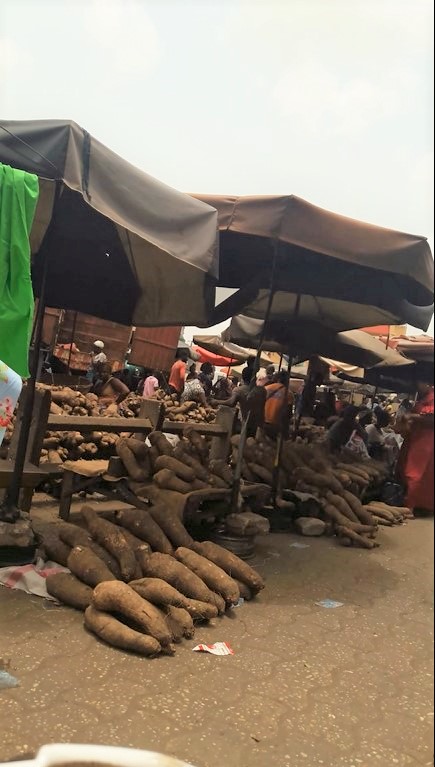 Heavy yams
Again and again you will find large two-story halls that are crammed with fabrics, for example.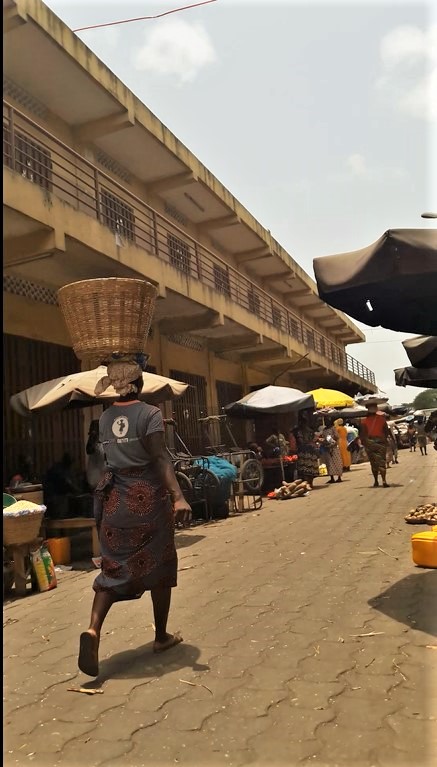 A subtly overwhelming choice of fabrics 🙂
Sand dust and chilli in the air make me sneeze, and especially in the areas where uncooled raw meat is sold, it smells unpleasant, just like in the fetish market, where it smells sweet like rot. Men haul carts loaded with heavy sacks of rice or flour across the market. "Agoo!" They shout, so that people can clear the way for them. "Pure Water fifaa!", "Kponwé, Kponwé!" And "Aioma cinq cents!" Are loudly praised by the sellers for their goods. Prices are negotiated, then the goods are packed in black plastic bags and given to the customer. It's incredibly crowded and bustling, and as a precaution I always carry my backpack in the front after being warned by several sellers that I should take good care of it. The market is a big maze and it took me a while to find my way around. From some huts you can hear music, both traditional and modern Beninese songs, but sometimes a religious station is also playing where the rosary is being prayed. The Muslim vendors spread mats on the larger paths or in their huts when they pray, so that they can kneel down and pray.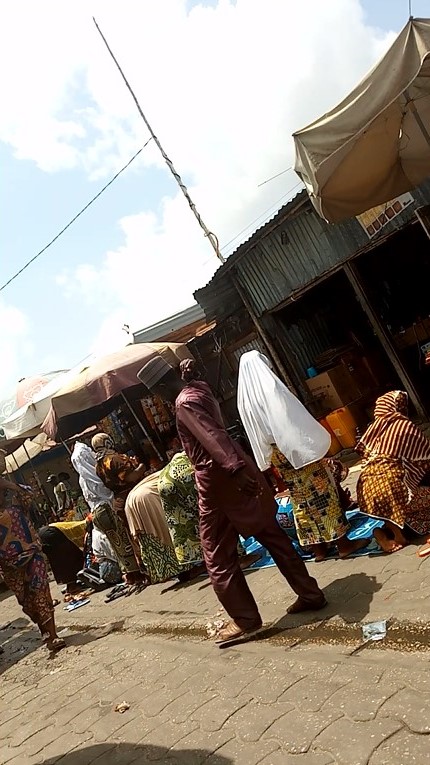 muslim women at prayer
I am often approached by the shop assistants, sometimes they invite me to look at and buy their goods or to share their lunch with them, but often they just greet me on Fon and are really happy when I have a little small talk with them speak their tribal language. Small talk in Benin involves asking your counterpart, among other things, whether he is healthy, what he has already eaten today and what he has brought with him. Often I am then asked where my husband is 🙂. Sometimes the shop assistants 'babies sleep on small patterned sheets in the huts or behind their mothers' stalls. The saleswomen themselves also take a nap now and then, especially when they have their booth in the narrow streets and when there is not much going on. Otherwise there is a little chat with the neighboring sellers or customers, the market is definitely a place where you can exchange ideas! On my way to the Baraque SOS I see many children, most of them girls, who carry their goods on their heads and sell them at the market. (This is a sad reality here, but I would like to go into it in more detail in my next blog entry, because it is precisely with these little girls that we work in the Baraque SOS.)
If you want an even better insight into Dantokpa, I recommend this short video from Médecins du Monde, which should give you a very good impression of the broader streets of the market.
Many greetings,
Tata Barbara