How is whey protein from VX Labs
SCI-MX Nutrition
Like many supplement manufacturers these days, SCI-MX Nutrition is also based in Great Britain. Another thing they have in common with the competition is the reference to scientific work based on the latest findings. The products from SCI-MX Nutrition themselves can be described as solid but by no means unique in their design, especially the white / blue colors used are not exactly creative.

SCI-MX Nutrition Ultra Whey
---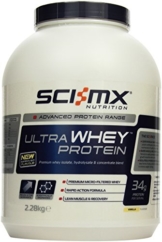 40,99 €
1.80 € / 100g
0.54 € / portion (30g)
incl. 19% statutory VAT.
---
Not available
| | |
| --- | --- |
| Manufacturer | Sci-Mx Nutrition |
| Protein content in grams | 76.00 |
| Protein content confirmed | |
| BCAA content in grams | 13.00 |
| Added amino acids | |
| Microbiological analysis | |
| Label transparency | |
| Leucine content in grams | 6.00 |
| Valine content in grams | 3.40 |
| Isoleucine content in grams | 3.60 |
| Country of Manufacture | UK |
| Bottling country | UK |
| Serving spoon | |
| Number of flavors | 5 |
| Placement in the test | 75 |
| Conversion factor price / 100g | 0.043847874720357935 |
| Conversion factor price / portion | 0.01319910514541387 |
In order to keep its range in order, SCI-MX Nutrition divides its products into 4 lines.
First there is the "Hardcore" line, it is primarily intended to help you gain weight without considering any body fat. The "Core" line is the first to be a basic line for basic sports nutrition. "Lean Core" should be specially designed for building lean muscle mass, while "Ripped Core" is, according to SCI-MX Nutrition, suitable for breaking down body fat.
Apart from a slightly increased bar offer, the range of SCI-MX Nutrition is still very clear and does not contain any fancy products. The somewhat experienced athlete will find his way around immediately and will even find a small range of accessories and clothing. In-house product development at SCI-MX Nutrition mainly works on the development of new products, but the optimization of the existing range plays a major role.
.
Products from SCI-MX Nutrition
.
SCI-MX Nutrition Ultra Whey Protein
The Ultra Whey Protein from SCI-MX Nutrition is a typical representative of today's whey proteins. It is a mixture of whey protein concentrate, whey protein isolate and the high-quality hydrolyzate from whey. In contrast to a pure concentrate, this ensures a slightly higher protein content, less lactose and better digestibility. That brings the whey protein to 77% protein, 7.8g carbohydrates and 5.1g fat. The BCAA content is relatively low at 13.4g, which is probably due to the added glycine.
.
SCI-MX Nutrition Pro-VX Protein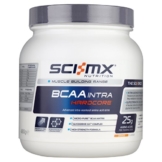 SCI-MX Nutrition Pro-VX Protein
Even athletes with a lactose intolerance or a vegan lifestyle need enough protein to build muscle. The Pro-VX protein from SCI-MX nutrition can help.
It consists of purely vegetable proteins and does not contain any animal additives and still has a high-quality amino acid profile. SCI-MX Nutrition has soy protein, pea protein and rice protein in Por-VX. Despite the use of vegetable protein, this enables a high biological value. With a protein content of 75% in the cocoa mass, the Pro-VX protein manages 13g of the essential BCAAS. The carbohydrate content is 7.4%, the fat content for a vegetable protein is usually very low at 1.9%. SCI-MX Nutrition also added micronutrients to the protein in order to optimize the supply of the athlete.
SCI-MX Nutrition Pro-VX Protein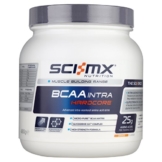 SCI-MX Nutrition Pro-VX Protein
BCAAs are popular nutritional supplements because of their many benefits and the fact that they are essential. BCAA Intra Hardcore from SCI-MX Nutrition are a flavored BCAA powder with an amino acid ratio of 2: 1: 1 like most products on the market. The BCAA content is 60%, which is not an outstanding value for a BCAA powder. Much of it will have been used for flavoring and sweeteners. The SCI-MX product also contains 10% L-glutamine which is described together with glycine as GH Amino Acid Complex.
More products from SCI-MX Nutrition