Life in Uganda
Experienced emigration
Miriam has chosen a life in Uganda. Together with her husband Charlie, she founded an aid project for street children in the Ugandan city of Gulu. Living and working in Uganda - a few years ago she would never have dreamed of it. During her visit to Hamburg, she explains how the move to Uganda came about.
"At first I didn't know where God's ways would lead me," remembers Miriam Öttinger (26). She just had a great desire not only to go abroad as a tourist, but also to get involved there. The first stop came through contacts with her Catholic home community in Lower Franconia. Through a sponsorship project, she was able to complete an internship in a children's home in northern Brazil, which she needed for her training as a kindergarten teacher.
She later qualified as a curative teacher and moved to the Rhineland for work, but she was still fascinated by the distance. In 2013, Miriam took the opportunity to visit a friend in Uganda who was working in an orphanage there - and supported the team for a while, initially in 2014 for six months with voluntary work. In 2016, she invested all of her annual vacation.
In 2018 Miriam met the Ugandan Charlie - and fell in love. Charlie, fitness coach and gym owner, has privately supported street children for years. From this both developed the project "Childrens Care Uganda" in order to organize and secure this work in the long term. "The children sometimes need medical help, sometimes help to get back to their families, sometimes a place to sleep. But they always need support to be able to believe in themselves. God's path led me to Uganda, to this project and to Charlie", is Miriam is convinced.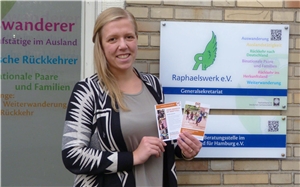 Photo: Raphaelswerk e.V.
Back in Germany, she terminates her employment contract, dissolves her apartment in Germany and inquires at an emigration advice center: Which visa do I need to be able to live and work in Uganda? How does it work with health insurance? Can I get married there and is the marriage recognized here in Germany? What do I have to consider? The counselor helped her find her way through the jungle of regulations and laws.
However, Miriam had already fulfilled one of the most important basic rules for emigration: She had got to know her new home country off the beaten track at different times of the year: the downpours in the rainy season, which immediately soak you completely; Power outages knocking out cellular networks, phones, and computers; the cargo motorcycle "bodaboda" instead of your own car; everyday life beyond exclusive vacation spots. She decided wholeheartedly for Uganda, for Charlie, whom she married in summer 2019, and for the joint project Childrens Care Uganda (CCU), for which she is now looking for financial support.
Both will continue to use their energies to firmly anchor CCU in Uganda, to train the staff already employed and to create a reliable financial basis.
More information about Children Care Uganda can be found on the website www.childrencareuganda.org.