Who actually runs North Korea
North Korea's trading partner in the US target
In atomic poker with North Korea, US President Donald Trump has brought a trade embargo against the country's economic partners into play.
"The United States is considering ending all trade with countries doing business with North Korea, in addition to other options," tweeted US President Donald Trump on Sunday after the Pyongyang regime claimed to have tested a hydrogen bomb. But what exactly does the president mean when he says consequences for the countries that "do business with North Korea"? Does he mean trade?
When it comes to world trade, North Korea doesn't matter much. According to the figures from the CIA World Factbook for 2015, North Korea is not even among the top 100 trading nations worldwide with its imports and exports. Pyongyang's most important trading partners, on the other hand, are among the largest players in world trade.
The world's largest export nation, China, has a 1,420-kilometer border with North Korea and is by far the country's most important trading partner. According to a comprehensive study by the Massachusetts Institute of Technology, China accounts for 83 percent of North Korea's exports and 85 percent of its imports.
But if the US were to actually break off trade relations with China, it would have a huge impact on international trade and the world economy. Only Canada and Mexico import more goods from the US than China. 9.3 percent of US exports go to the Middle Kingdom, while 21 percent of US imports come from China - so both countries are each other's most important trading partners.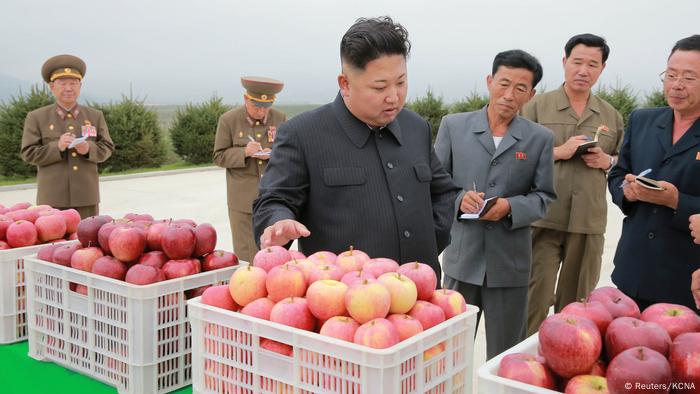 North Korea's head of state Kim Jong Un wants to prevent famine like under his father's rule
Great impact on the flow of goods
North Korea's second largest trading partner is India. 3.5 percent of Pyongyang's exports go there, while 3.1 percent of imports come from India. The world's largest democracy is number nine among the United States' trading partners. A US trade embargo against India would also have a major impact
The other most important trading partners of North Korea are spread across countries in Asia. When it comes to exports, Pakistan with 1.5 percent and Saudi Arabia with 0.89 percent lead a long list of smaller export markets. Africa is represented by Burkina Faso (1.2 percent) and Zambia (0.49 percent). In terms of imports, Russia, Thailand (2.1 percent), the Philippines (1.5 percent) and Mexico (1.3 percent) rank behind China and India with 2.3 percent.
Even if North Korea's trade volume with China is negligible, more than 100 countries trade with the Pyongyang regime. Germany, the number three global export power, is one of them - albeit at a very low level. In 2015, Germany imported goods worth 2.9 million euros, including mainly iron alloys, wire ropes and X-ray equipment. The 6.2 million German exports were primarily pharmaceuticals.
In 2015, North Korea exported goods worth 2.38 billion euros and imported goods worth 2.9 billion euros. Its most important export goods, coal and clothing, together make up around a third of all goods exported from the isolated country. North Korea imports a wide variety of products from consumer electronics to soybean oil.