What are good apps like Duolingo

The wish slumbers in many of us, but only a few actually implement it: learn a new language. Whether in professional or private life - mastering one or even several foreign languages ​​can always be an advantage. With the help of various apps, it is easier than ever to learn a new language without looking through books and boring lessons. We introduce you to some of the best language learning apps here. There is a suitable app for every type of learner, regardless of whether you prefer to learn with videos or texts, aurally or visually.
Do you also want to train yourself in other areas? Here we have already written about independent online learning.
Babbel
One of the best language learning apps is definitely Babbel. With this app you can learn 14 different languages. The language course uses different types of tasks to make learning as varied as possible. The individual lessons are quite short, which makes it easy to incorporate them into everyday life. Through interactive dialogue exercises and speech recognition, you will learn to speak confidently in real life too. In addition to the regular lessons, there is also a vocabulary trainer. How exactly you learn the vocabulary is up to you. You can choose between index cards, listening, speaking and writing.
A cool extra is the ability to learn in the respective foreign language via podcasts. The short episodes each tell small stories that you can listen to or read along with. In addition, there are always comments on applied grammar topics or forms of expression from language experts. While the podcast feature isn't available for every language, it can also be found for free on Spotify and other platforms. There are various subscription forms for Babbel, ranging from 9.99 euros per month for a three-month subscription to 5.99 euros per month for twelve months.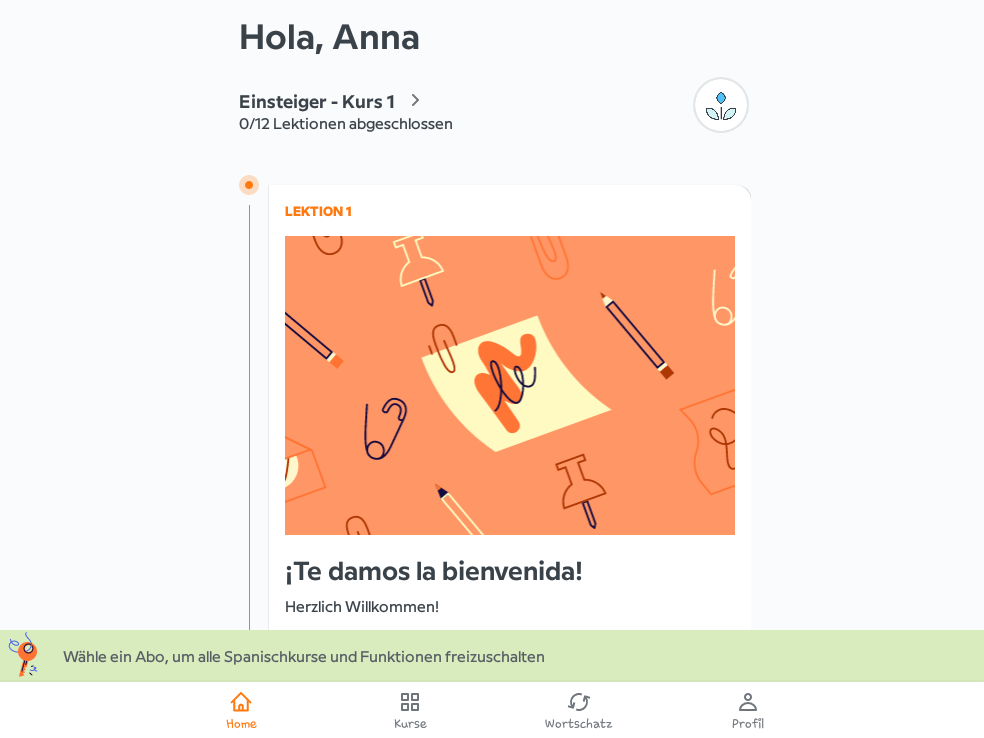 Duolingo
Duolingo is also definitely one of the best language learning apps, the basic version of which is free compared to many of its competitors. Those who prefer an ad-free version can purchase it for $ 6.99 per month. By collecting points, competing against time and achieving goals that you have set yourself, the competitive spirit is awakened in some users, which can be very motivating. By building streaks and a leaderboard, the app motivates you to practice daily. The short lessons make this very possible. Also the mascot duo, which you can even buy different outfits as soon as you have collected enough points, adds to the charm of the app. The individual lessons adapt to your personal learning style. This ensures that you internalize what you have learned and do not jump to the next lesson too quickly.
Just like Babbel, Duolingo also has a podcast function for Spanish and French. Another function to improve reading and listening comprehension are the Duolingo Stories. These are little stories that you can listen to. Every now and then there are also small exercises that improve the understanding of the text of the story. Duolingo also offers an English test that you can take from home and that it claims is accepted at hundreds of universities around the world. For German native speakers, Duolingo only offers English, Spanish and French. But if you have no problem with English as the source language, you can learn up to 35 different languages.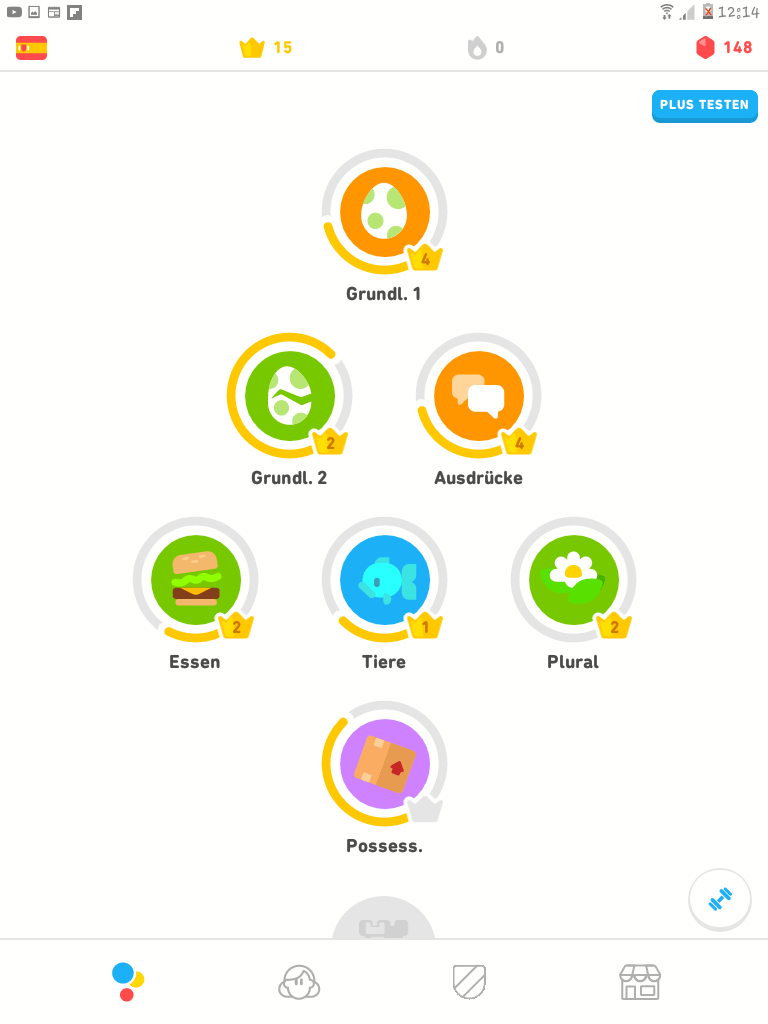 Mondly
Mondly also uses short lessons with different types of tasks to make learning pleasant and varied. After each lesson, the newly learned terms are summarized and read out again. So you can listen to and memorize what you have learned. Here, too, you have an incentive to practice daily, as there are daily lessons, as well as a weekly quiz and a monthly challenge. The weekly quiz can only be taken once all of the weekly weekly lessons have been completed. The same goes for the monthly challenge. There is also a leaderboard at Mondly.
A highlight of the app is the chatbot. This artificial intelligence will talk to you by asking you questions that you can answer. This creates a dialogue in which you can apply what you have already learned. In total, you can choose between 41 languages ​​at Mondly. The basic version is also free here. Even the free version is one of the best language learning apps. However, if you want to learn topic-specifically, you have to purchase the premium version. This costs 9.99 euros per month or 4.00 euros per month if you take out a subscription for twelve months.
If you want to try Mondly, you can do so here (commission link)! Here you can either secure one-year access for 47.99 euros. Or you can take advantage of the special offer and grab life-long access for 99.99 euros.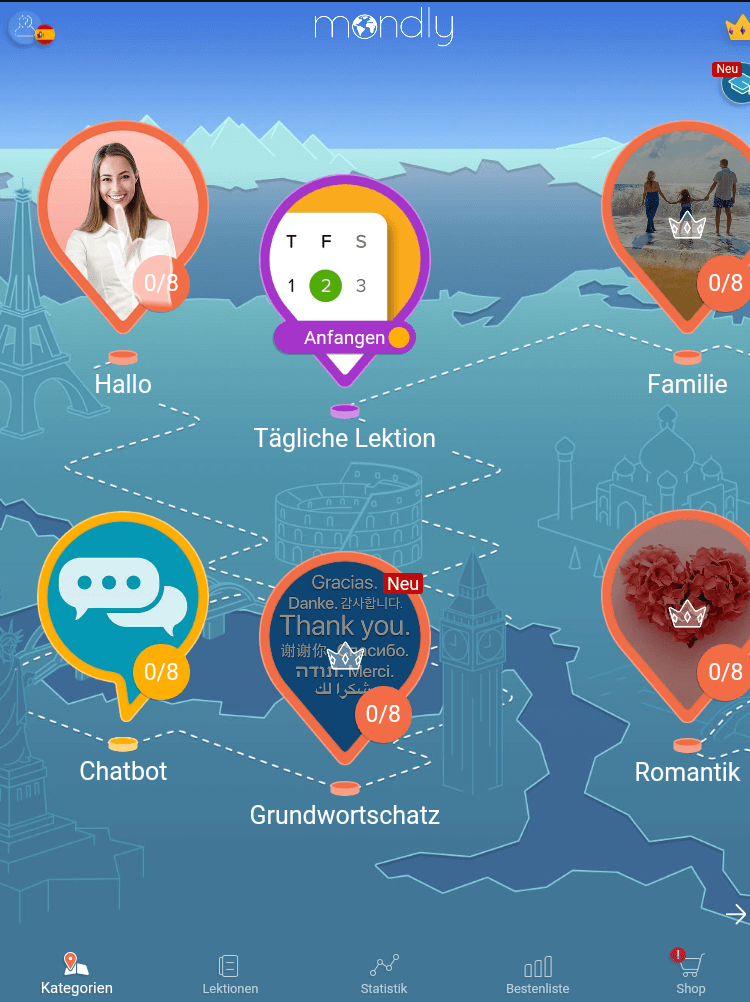 Rosetta Stone
Rosetta Stone focuses less on just memorizing vocabulary and more on speaking and pronunciation. The app has a total of 24 languages ​​to choose from. This fact alone makes it one of the best language learning apps out there. Once you've decided on a language, you can choose a plan. The choices are travel, career, root search and language passion. Depending on which plan you choose, a different focus is placed. Most of the plans are designed for 6 weeks in which you practice 30 minutes five times a week. However, you can learn without such a plan. There are 20 units for this, each divided into four lessons with the categories main lesson, pronunciation, vocabulary, grammar, listening, speaking and overview. This means that a more individual learning program is also possible.
Rosetta Stone also has stories that you can read and listen to. You can also record yourself reading the story in the app. The words that were not pronounced correctly are then marked in red. With the audio companion function, you can download content and play it offline. Rosetta Stone is priced at 13 euros per month with a three-month subscription or 8 euros per month with a twelve-month subscription. However, there is also the option of lifetime access. The cost for one language is 199 euros, if you want to keep all languages ​​for life you pay 249 euros.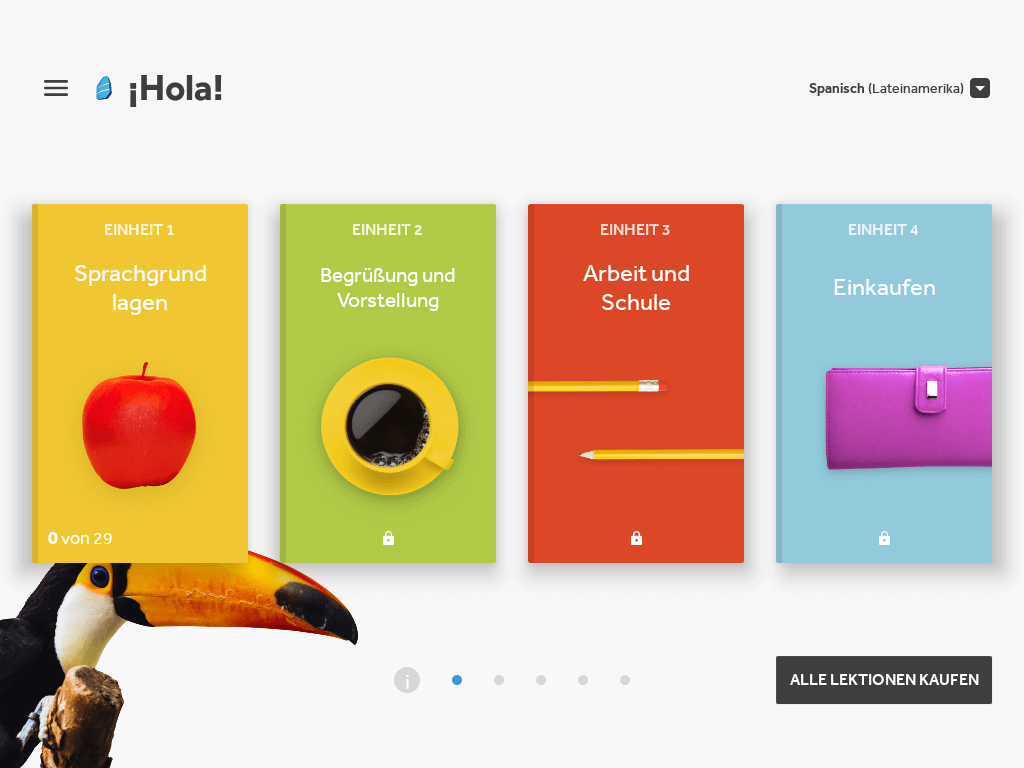 Yabla
Yabla offers English, Spanish, French, Italian, Chinese, and German. Unlike many other apps, at Yabla you mainly learn through videos. There is a mixture of dialogues, TV series, explanatory videos, interviews and more. The videos are played in the app with subtitles in the target language as well as in English. For a better understanding, you can also play the video more slowly and with the loop function you can repeat individual sentences. To check whether what you saw was actually internalized, there is a game with two levels of difficulty for each video. In addition, there is a vocabulary function with which you can repeat the vocabulary learned in the video. Especially for visual and auditory types of learners, this app is one of the best language learning apps. The costs are 11.95 euros per month, 49.95 euros every six months or 89.95 euros annually. At the moment the app is still in the development phase, but you can still test it in Early Access mode.
You can register with Yabla here: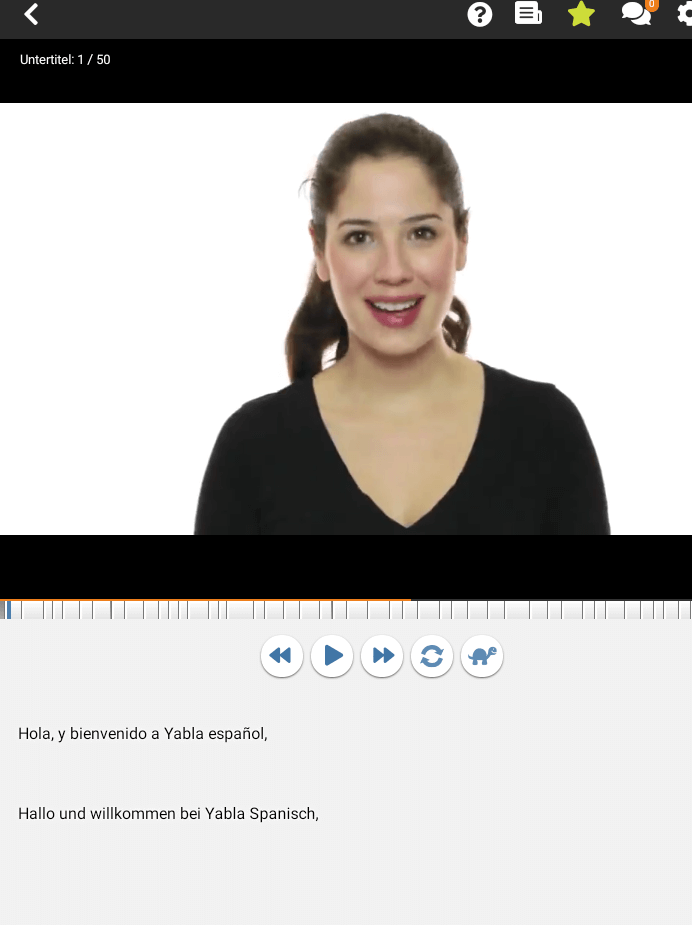 Italki
Italki is a language learning app that focuses on one-to-one tuition with private teachers. Here you can choose one of the more than 10,000 teachers. To find the right teacher for you, there is an introduction video and reviews of other students. As soon as you have found a teacher who suits you, you can book your first lesson with her. You can set the date and time individually. The lessons themselves take place via video chat software. It is important to know here that the teachers go through an application process and have to show qualifications. So not everyone can become a teacher. A big advantage of the app, however, is that more than 100 languages ​​can be learned. At Italki, you pay a price per hour and according to the website that corresponds to your budget.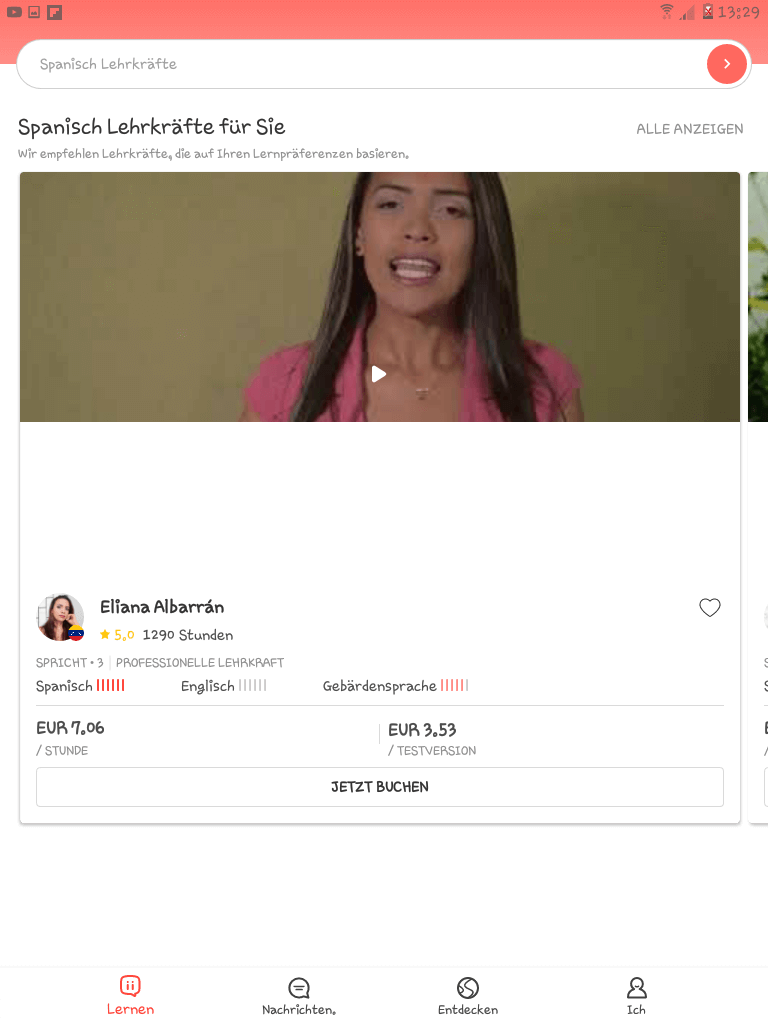 Busuu
Busuu advertises learning a new language in just 10 minutes a day. There are twelve different languages ​​to choose from. After registering in the app, you will be asked which language you want to learn, for what reason and what level you want to achieve. You can also enter how often, how long and when you want to learn and thus create an individual learning plan. An intelligent vocabulary trainer is also included in the app. He will remember the vocabulary that you did not know in the exercises in the lessons so that you can repeat them later.
One feature that sets Busuu apart from other language learning apps and securing its place among the best language learning apps is the fact that members can help each other by giving feedback on speaking and writing practice. This app has a premium version for 9.99 euros per month and a premium plus version for 10.99 euros per month. The difference between the two versions is that the plus version includes an individual curriculum and an official certificate and you can learn up to twelve languages.
Memrise
The courses at Memrise are divided into different lessons. Each lesson learns new words and phrases that are recited by different native speakers. There are various repetition options to internalize what you have learned. You can choose from pronunciation, listening comprehension, problem words, locals, classic queries or the mode turbowhere the key is to select the correct answer as quickly as possible. This gives learning a playful touch. Motivation increases through self-set daily goals and streaks. You can also download the courses and play them offline. This is a feature not all of the best language learning apps have. Here, too, you can collect points and thus move up in the ranking list. You can also create your own courses on the computer. The prices for the premium version are 8.99 euros per month, 18.99 euros for three months and 29.99 euros for the first year, after which the premium version costs 59.99 euros annually.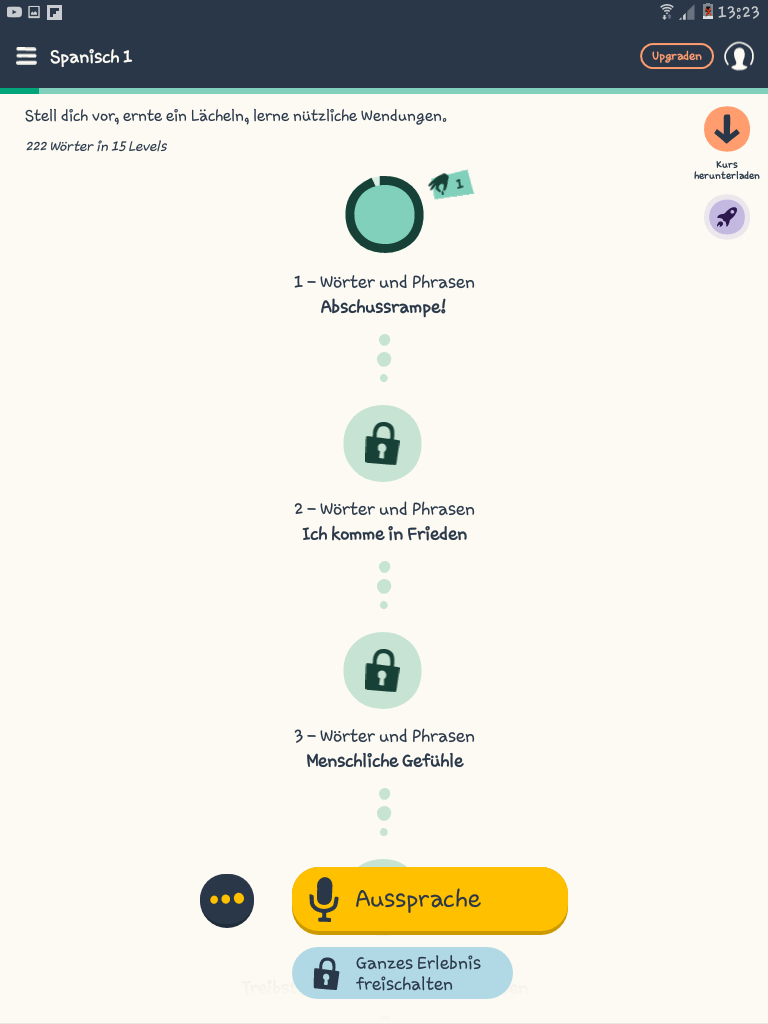 Hello Talk
At HelloTalk you can chat with native speakers from all over the world, make friends and improve your language skills. These tandems can take place in text form or through calls or voice messages and are free of charge. Additionally will also Listening lessons offered, which is particularly advantageous for complete beginners to learn the basics. A translator is also integrated in the app, with which you can quickly look up something while chatting. With the MomentsFunction you can communicate with the entire community to ask questions or report news. HelloTalk is therefore less of a classic language learning app - albeit one of the best, but more of a kind of social network for people who want to learn new languages. The basic offer is completely free. However, there is also a VIP membership for 6.99 euros per month, 39.99 euros for a year or 99.99 euros as a purchase for life. The VIP membership gives you a higher profile and you can learn up to three languages ​​at the same time. In addition, an unlimited number of words can be translated and there are no annoying advertisements.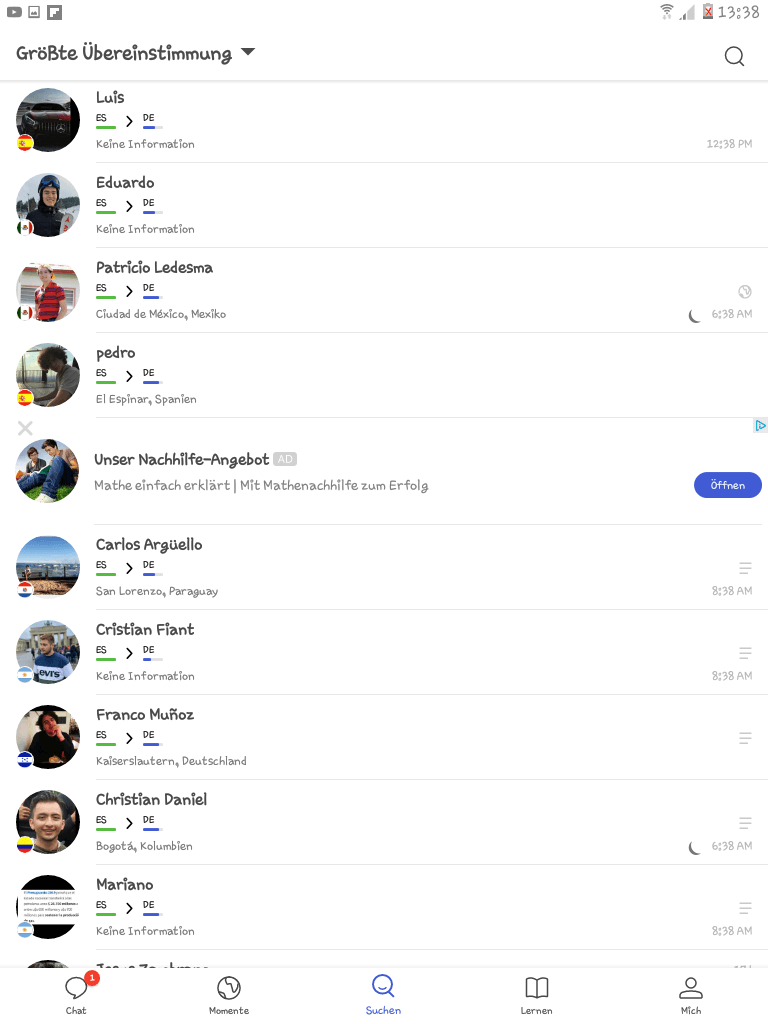 LingQ
LingQ is definitely one of the best language learning apps. Here you can learn by reading and listening. When you log in, the app first asks you which topics are of interest to you in order to suggest suitable texts. Once registered, you can access a huge media library of language content. You choose topics and texts that interest you and read them through or listen to them. You can simply tap unknown vocabulary to display a translation, which will create a LingQ. These LingQs are saved so that you can repeat them afterwards. In the free version you can save 20 LingQs a day. If this is not enough, you have to purchase the premium version. This is 12.99 euros per month. You pay € 11.99 per month with a six-month subscription, € 8.99 with a twelve-month subscription and € 7.99 with a 24-month subscription.
Preply
Similar to Italki, Preply offers one-to-one tuition with qualified teachers. You enter which language you want to learn and what level you are currently at. You can also indicate when you want to take the lessons and how much you want to spend on them. Based on these inputs, the app compiles a list of potential private teachers for you. The teachers introduce themselves in writing and through a short video and can also be rated by students. Most of the teachers on the platform are verified. This means that Preply documents are available that show that they have the appropriate qualifications. The price varies from teacher to teacher.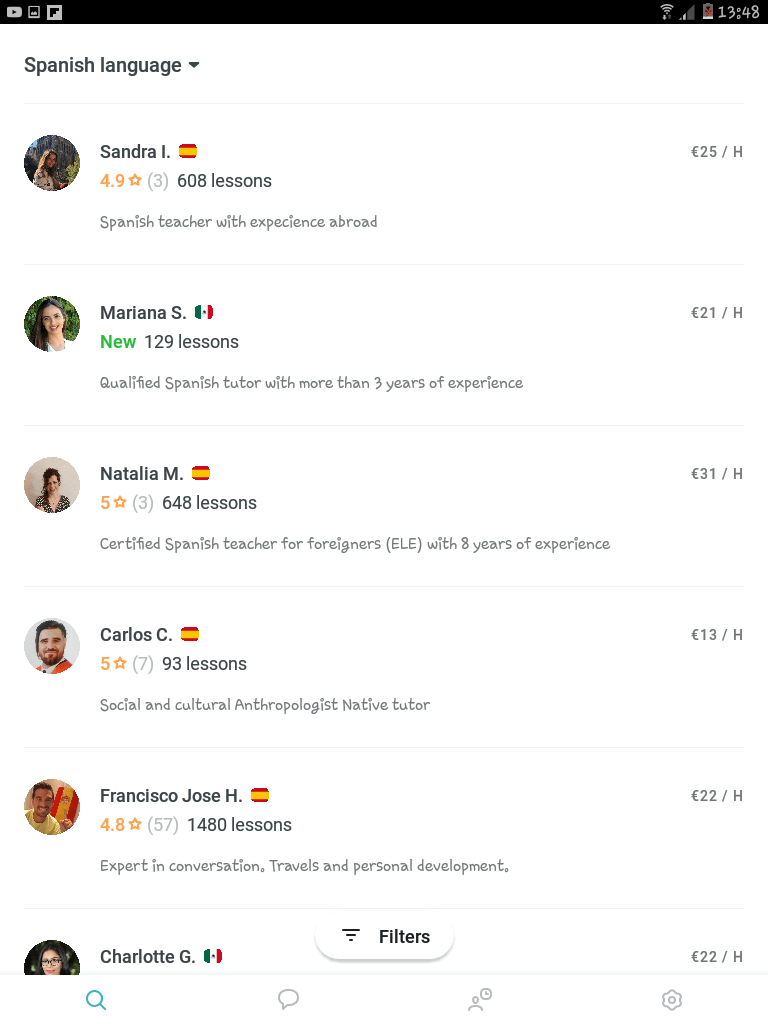 LinguaTV
At LinguaTV, like at Yabla, you learn through videos. You can watch the videos on the different levels of difficulty and read the dialogues. Afterwards there are different tasks for each video and also a vocabulary trainer. Since you can only complete the first lesson of a course without premium access, it is advantageous to purchase the paid version here. This costs 19.99 euros for one month, 39.99 euros for three months, 59.99 euros for six months and 79.99 euros for one year.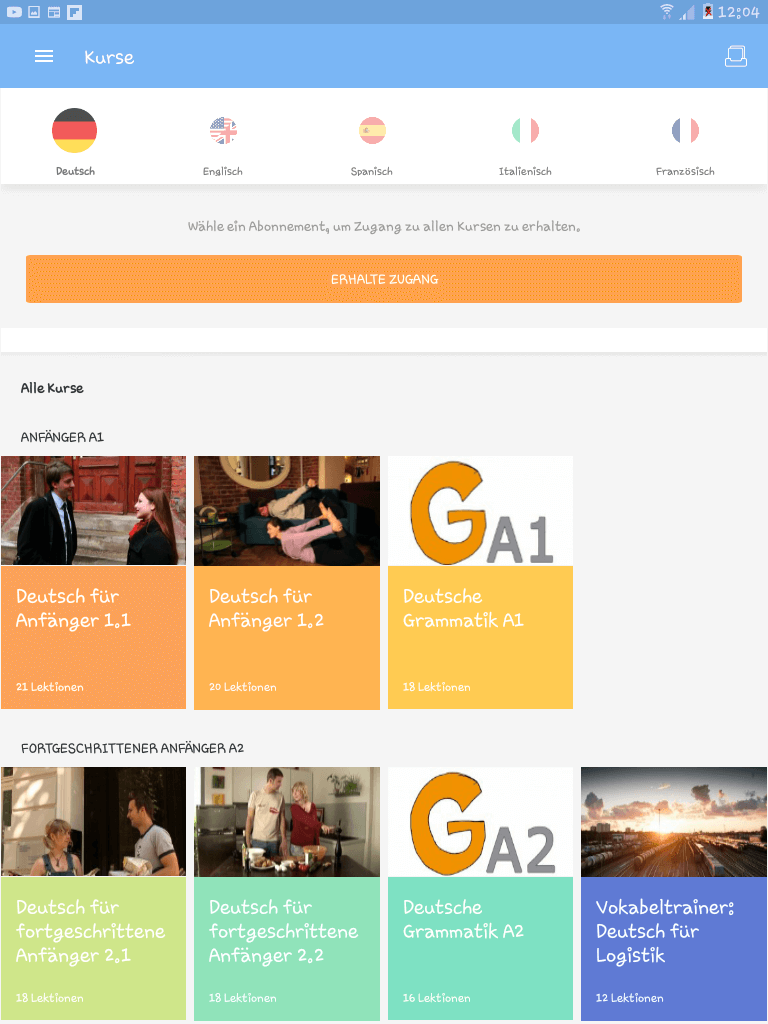 WordDive
WordDive closes the list of the best language learning apps with a focus on activating all of our senses in order to learn as effectively as possible. For this reason, all content is set to music. Explanations of grammar appear again and again between the exercises, so that you can apply them both practically and theoretically at the same time. According to the website, WordDive users achieve fluent language skills in an average of 63 hours. This means that you can theoretically learn a new language in 3 months if you practice 45 minutes five times a week. This requires the full purchase of the course at a price of 9.99 euros per month. Once you've bought the course, you can set a personal learning goal and track your progress. There is also a top list here that is supposed to motivate. You can also compare yourself with friends in the app. WordDive offers a total of ten different languages.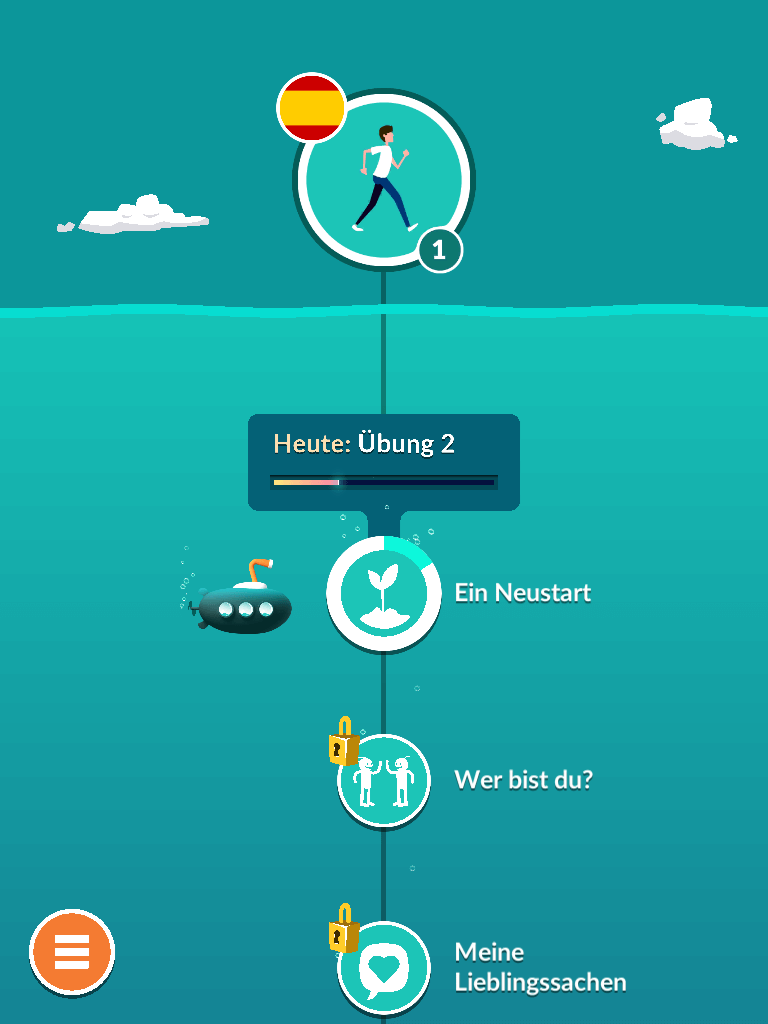 ---
Cover photo by Ashley Whitlatch via unsplash.com
Screenshots made by Anna Klaffschenkel
[kofi]
Anna Klaffschenkel

Anna Klaffschenkel is part of the Netzpiloten editorial team and is interested in everything to do with sustainability, climate protection and politics.
Send articles by email
Keywords: self-employed learning, language app