What is the universal truth
Andrássy University of Budapest
The interactive play "Institute of Truth" deals with exactly these questions and was premiered on June 2nd, 2020 at 7 pm via livestream on Facebook.
The final year of "Central European Studies: Diplomacy" has this year too, together with Dr. Márton Méhes prepared an exciting cultural project in the seminar "Applied Cultural Diplomacy".
Preparations have been going on since September 2019, from finding topics to organizing cooperation partners, marketing strategies and acquiring artists, as well as their support. In this way, this year of aspiring cultural diplomats also learned how to plan a reputable cultural event. This year the focus should be on the exciting subject of freedom of the press and the protection of journalists. Together with Hungarian actors, a play in the form of a trilingual - English, German and Hungarian - press conference was planned.
The "Intitute of Truth" has found the answer to the all-encompassing question of the truth with the help of an artificial intelligence called "Justitia", which, however, seems to be more autonomous than the foreign institute director George Ax initially thought. After the initial greeting rituals and introduction to the AI, the situation escalates very quickly.
Just in time for the beginning of the semester and after all KuDis returned from the compulsory internship abroad, the hot phase of preparations began in February. At the last physical meeting in early March, most of them joked that the Covid-19 virus could burst the planned event, but a week later it threatened to get serious. With a little creativity, tech-savvy students and even more commitment, the project was finally implemented as an online event. It was organized in weekly sessions on Google Meet, despite the miles between Hungary, Austria and Germany. As a sign of solidarity with the actors during the corona crisis and also with the independent theater scene in Hungary, the project should be implemented in any case.
The "Institute of Truth" has been present on Facebook since the beginning of May and managed to inspire 333 followers within a very short time and to lure 92 viewers in front of the screen during the live stream. The piece was recorded on the TRIP Hajó Budapest under all necessary safety precautions.
Until then, so much can be revealed: The truth always comes to light.
Felicitas KAHLES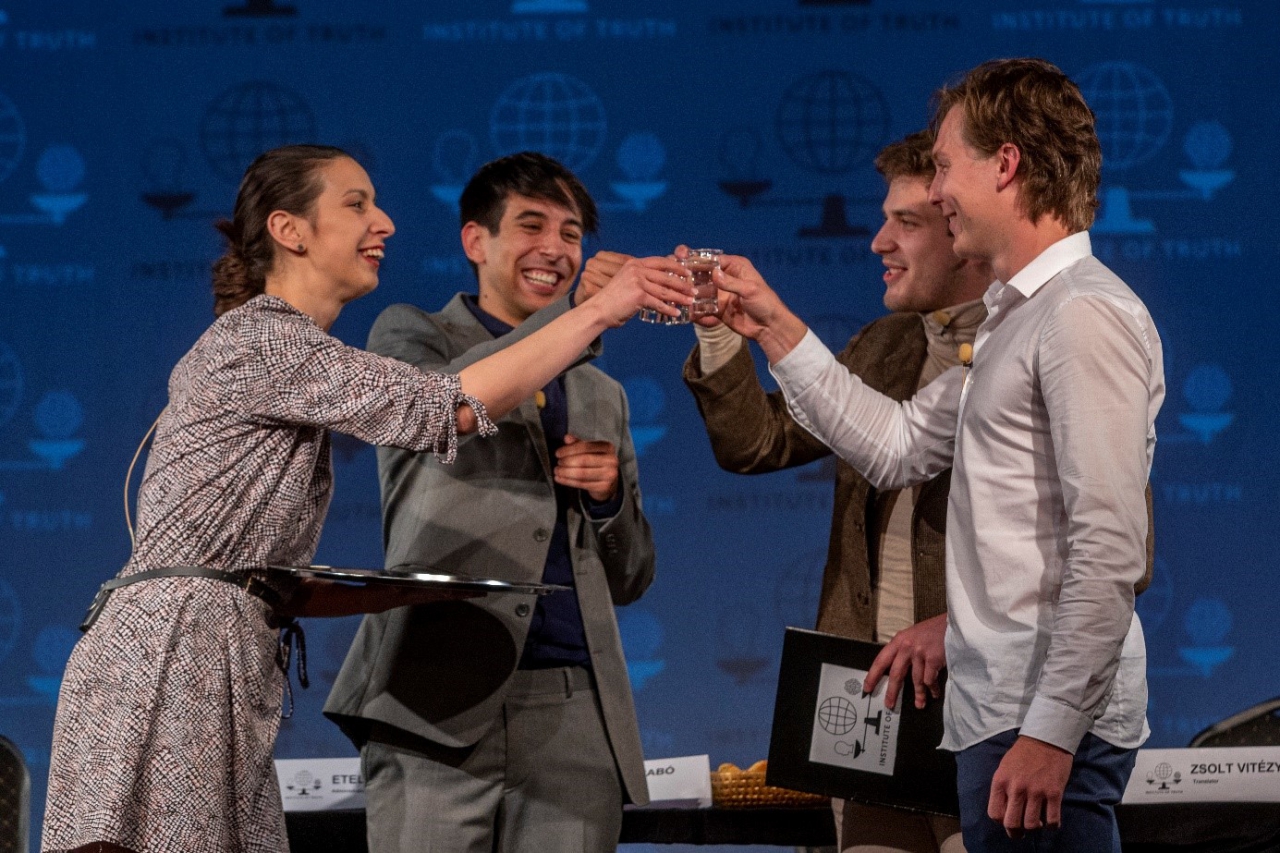 Etelka Kovács (Emina Messaoudi), Csaba Szabó (András Kazári), George Ax (László Hevesi) and Zsolt Vitézy (Sándor Koroknai) (from left to right) toast the newly founded institute (Photo: Ádám Kuttner)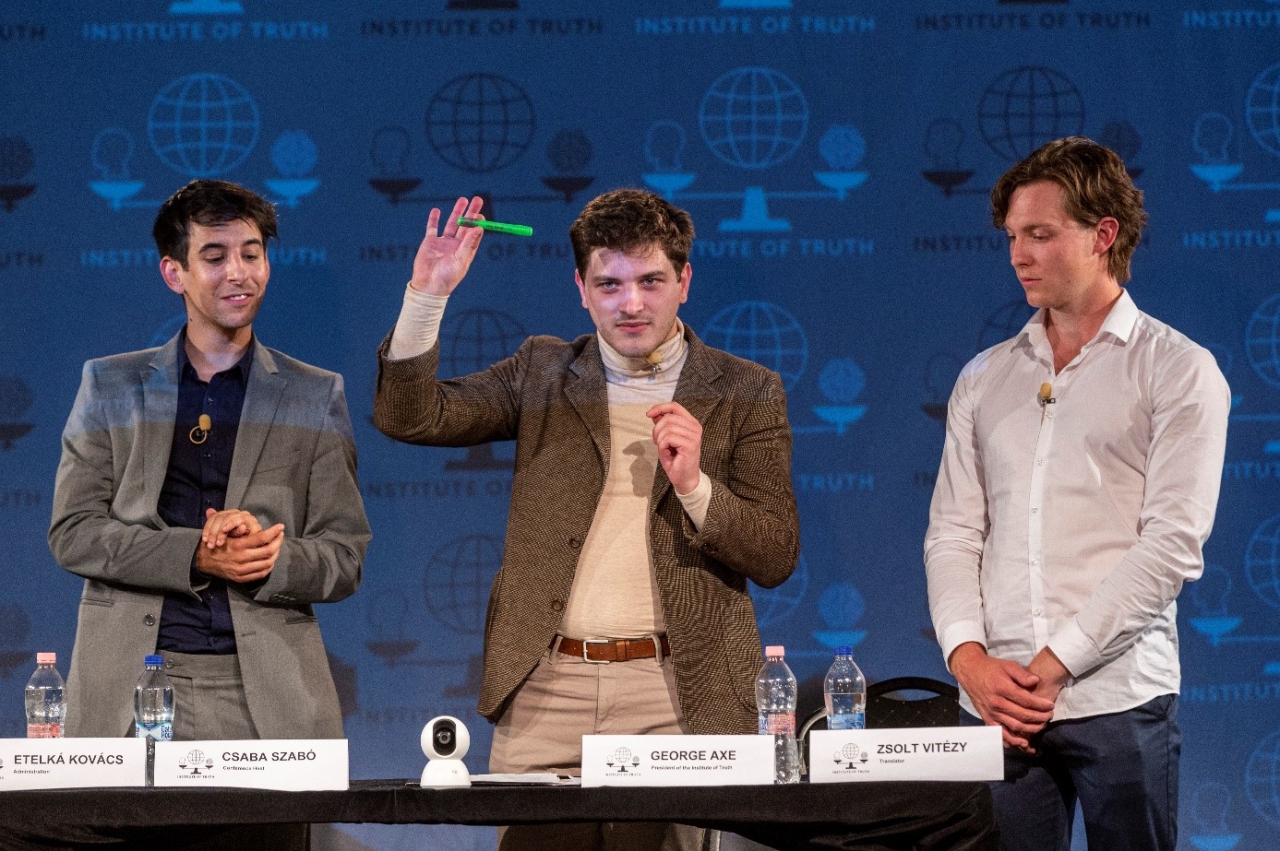 The foreign institute director George Ax presents the artificial intelligence "Justitia" (Photo: Ádám Kuttner)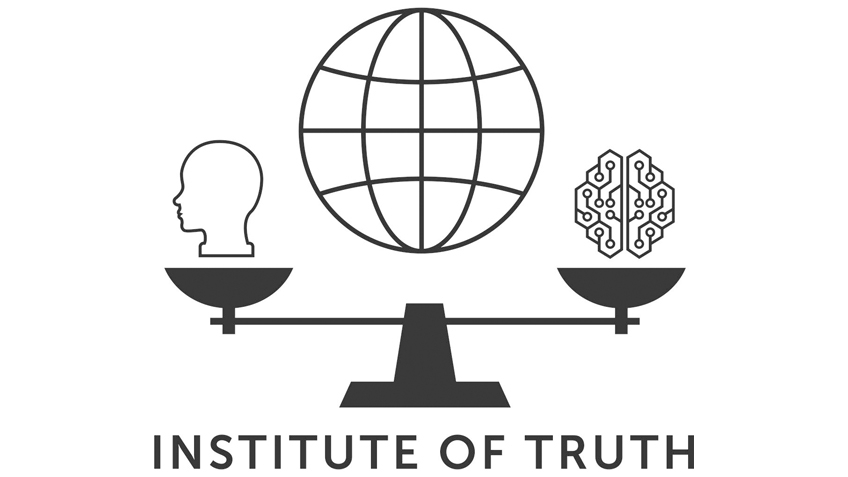 The logo of the "Institute of Truth" based on the idea of ​​Jacob Pencil, designed by Éva Szalay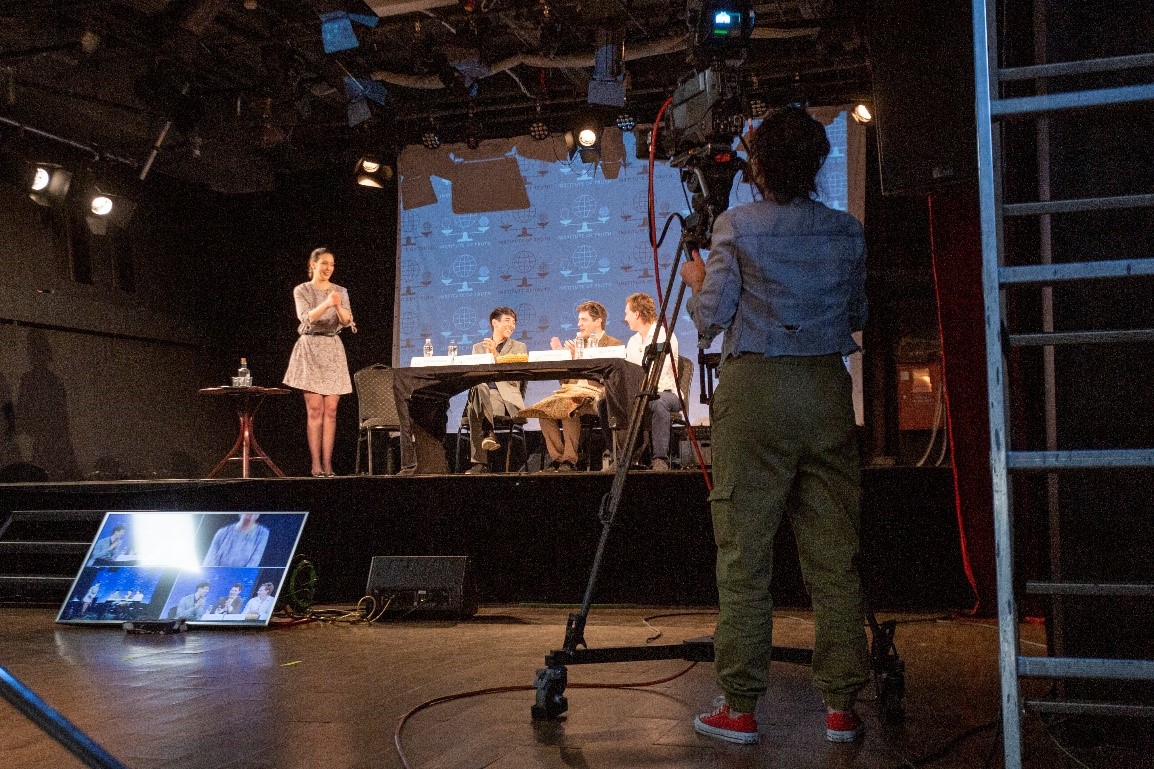 The audience could use the comment function to ask questions, which were then answered (Photo: Ádám Kuttner)
Partner - Andrássy University Budapest
Recommended events - Andrássy University Budapest