Is the deactivation of the LinkedIn account OK?
How it works: Privacy settings on LinkedIn (Update May 2018)
Are you wondering how you can use social media networks while protecting your privacy? For fear of data misuse, many people still "play it safe" and completely forego the use of Facebook, Google+, LinkedIn & Co. Unfortunately, they also forego many advantages for personal self-marketing, which I even do no longer want to miss.
The LinkedIn profile does not require any personal information such as address or phone number. The exception is an e-mail address, but you can also determine who can see it for this. Telephone numbers etc. do not have to be in the profile, unless you have consciously added them to the profile, e.g. to the summary or another area. In some cases it makes sense to provide details, but you don't have to. Anyone who would like to contact you can write to you via a message on LinkedIn and you can decide whether to confirm, answer or simply delete inquiries.
The following 10 points provide you with some important information about data protection and the privacy settings of your LinkedIn profile:
You don't want to be found on Google and Co? In that case, it's good to know that you don't have to make your LinkedIn profile public. The default setting during setup is public. To undo it, follow the instructions below and you will change your profile from public to non-public:
Click your profile photo in the upper right corner.
You go to "Privacy & Settings", click on the blue word "Privacy".
In the first place is now "Edit your public profile". If you click on it, a new window will open and you can check the box next to "Make my public profile not visible to anyone" on the right.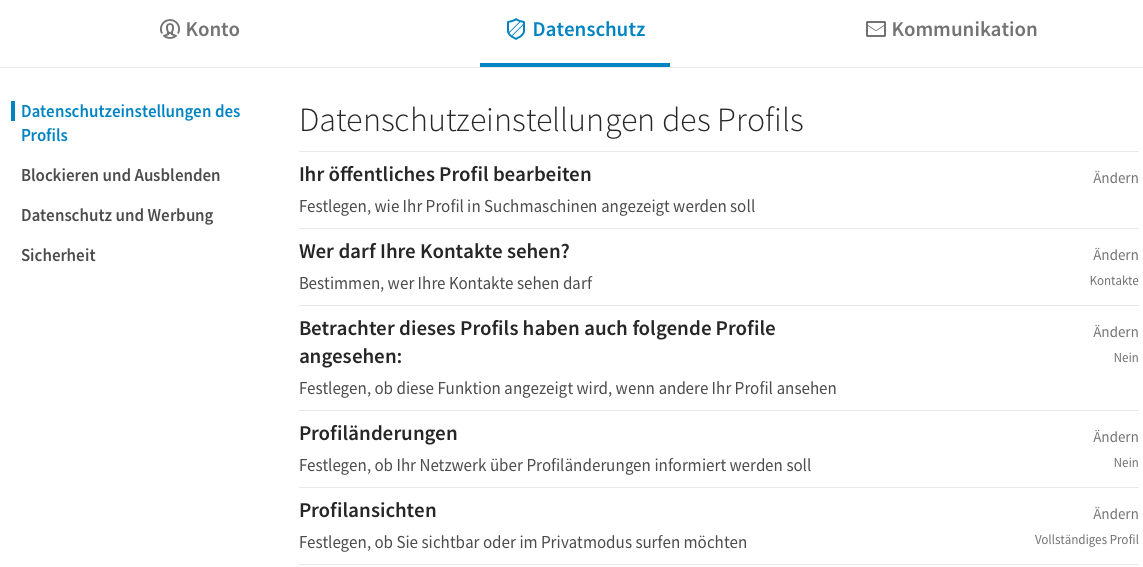 However, if you want to expand your network or are looking for jobs or customers, it is more advisable to use a public profile.
If you have selected the appropriate setting (it is selected automatically when you create the profile), the public profile appears in Google search or in other search engines. If you are planning to build a large network and want to be found by customers, recruiters and business partners, you should opt for this variant.
However, there is the option of opening the profile completely for Google or of only releasing some areas. Here you can see the choices as offered by LinkedIn: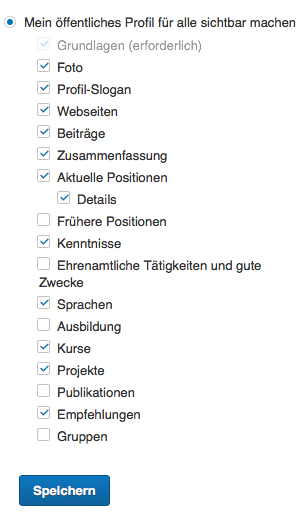 You can decide which profile areas are visible to everyone and which are not. If you have ticked the summary, it is publicly visible. If your email address is there, people who access your profile via search engines can send you a contact request or email. In some cases this is an advantage, in other cases it is better not to provide your email address.
Not everyone has to see your photo either. You can decide for yourself whether every member, only your network (contacts 1st, 2nd and 3rd degree) or only your contacts (contacts 1st degree) can see it. It can also be made visible to everyone, i.e. for people who are not logged on to LinkedIn. You can find out how to do this here.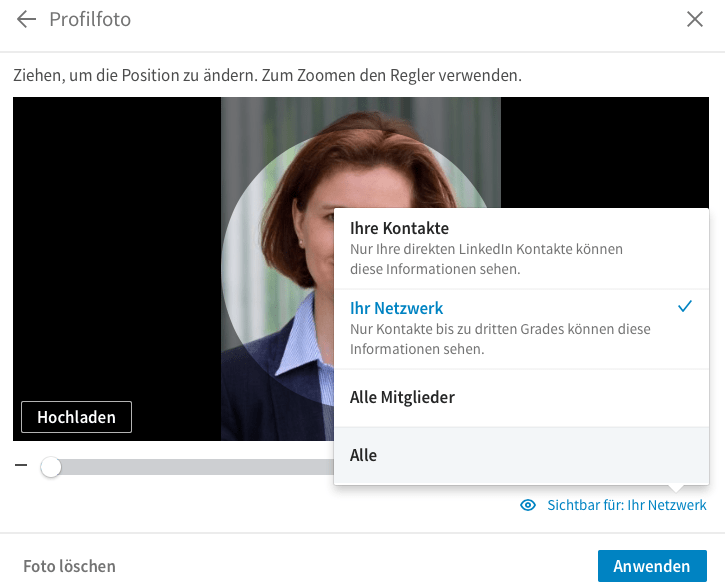 Here, too, you can make certain restrictions. In the "Data Protection" area, you can click whether people who have your email address in their contact list can also send you invitations to LinkedIn. Below you will find the selection that you can make.
When you are at the bottom "Nobody" click, your network will also grow slowly.

Since LinkedIn is intended for networking, the first setting is also the recommended setting. Whose invitation you accept is always up to you. I myself do not confirm every request, but rather look to what extent it makes sense for me. Contact requests that contain a profile photo and a personalized message are preferred. I have described how to do this in this article.
5) What do others see when you click on your LinkedIn profile?
Members who are logged in will see the following information once you have added them to the profile:
Details about the current and former jobs
Training details
Info text
Featured area
knowledge
recommendations
Web pages
Twitter account, if specified
which LinkedIn groups you have joined (this can also be turned off)
LinkedIn activities such as status updates.
There is also the ability to see who your contacts are. This can also be turned off in the privacy settings. In some industries or among coaches, it is usually important not to show who is one of your own contacts. For many users, on the other hand, it makes sense to see who is already networked with whom. Here, too, you decide.
In the area of ​​data protection, LinkedIn asks whether your profile may appear via search results on LinkedIn, when importing address books, in search engines or other permitted services outside of LinkedIn. The aim is to find existing contacts or to discover new people.
Otherwise, it is important for you to know that you can decide who can see the email address. Only you (self-explanatory), your direct contacts (1st degree contacts), 1st and 2nd degree contacts, or everyone on LinkedIn.

In general, LinkedIn does not allow you to find the right profile using the LinkedIn search and a phone number. 
Details that are entered under contact details, such as telephone number or postal address, are only visible for first-degree contacts. Many members do not leave a phone number or other details, so the field is often blank.
This agreement regulates the processing of personal data that the customer uploads or otherwise makes available to LinkedIn in connection with the services. The DPA or the order processing agreement between the data importer and data exporter is binding as an English-language DPA. You can find the LinkedIn order processing agreement in German via the following link: https://legal.linkedin.com/dpa/DE.
You may remember an earlier query under the title "Transfer of data to third parties". This related to the basic data. In the course of the GDPR, this query is no longer accessible. However, you should be careful, because under 8) there is an exception rule which you should at least know.
This question is a little hidden. Here you can decide whether you would like your data to be used for research purposes. If you don't want that, answer "no".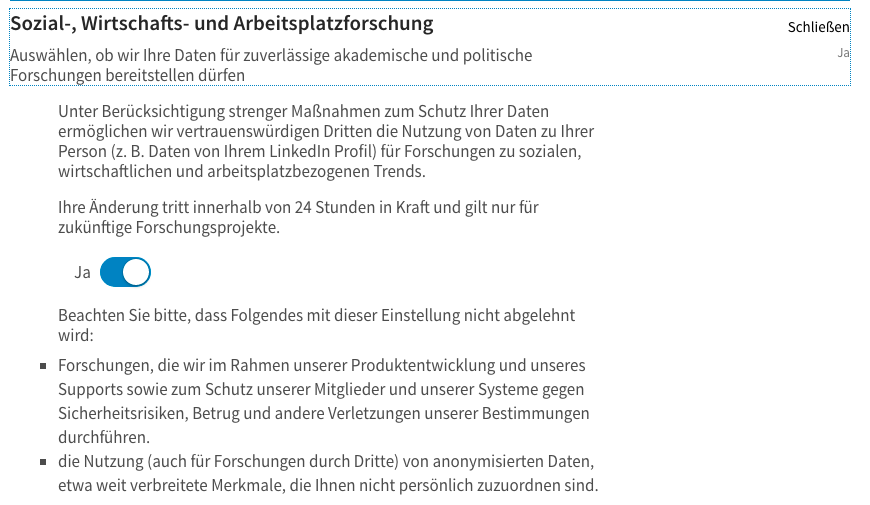 Here you agree whether LinkedIn may use cookies to tailor the ads to your interests. If you don't want that, just open the slider "No" put.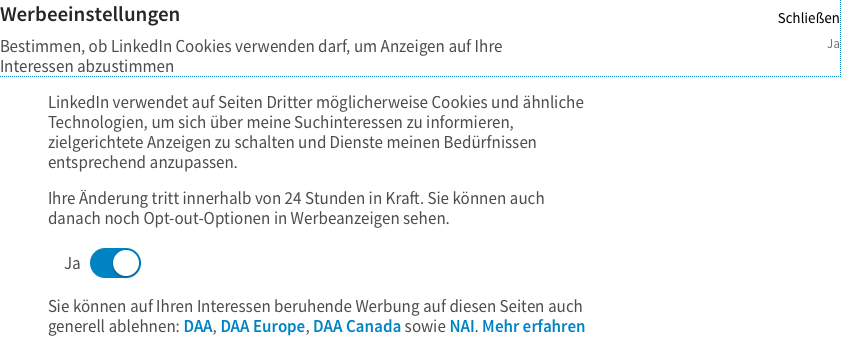 For each status update, you can set who can see the updates. Your contacts or the public. It is described in more detail here.
When you share the update with the public, it includes your entire network (your contacts, 2nd and 3rd degree contacts, LinkedIn Pulse). Since most users want to increase their brand awareness with LinkedIn, the setting makes "Publicity"The most sense.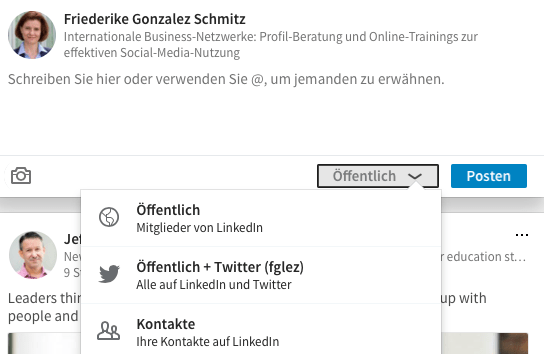 In addition to the updates, you can also write articles and share them with your network. They appear in the timeline of your contacts. In addition, your contacts receive via the bell symbol under "announcements"A message that you have published the article.
Change your password regularly and come up with a fancy password. No dates of birth, names of children etc.
Immediately log out if you have used another computer / public computer.
Rely on a two-step review. You can find out how this can be set on LinkedIn here. In the small print it says that LinkedIn is accessing the mobile phone data. As a result, you can see your WhatsApp friends under "People you may know".
Only network with people you know or who appear to be trustworthy to you.
You can also block people under Privacy. You can get rid of unpleasant people with just a few clicks.
Do not disclose any private information in the status updates or your LinkedIn summary unless you want to make it easier for customers or recruiters by storing the telephone number there.
That depends very much on your goals. If you want to be found on the Internet because you are self-employed, looking for a new job, then it makes sense to make your profile public. This also means that the keywords used in the profile come into the search engines and you can be found through them. I advise my customers specifically on their challenges and in many cases the mandate is that customers want to be found online using keywords that describe their expert status in order to get new orders or jobs.
You are also the one who decides who will join your network.
In general, when you use social media, the social networks collect data. A corresponding statement from LinkedIn can be found here under this link. In this case, the data of European members is managed by LinkedIn in Ireland. It is expressly pointed out that if you do not want data to be recorded, you should not log in to LinkedIn. You can read exactly to what extent LinkedIn works with your data under the link. You can see an article with the most frequently asked questions on the subject of data protection "FAQ" here.
Could your profile use fine-tuning?
Not sure what to look out for though? In my guide "Effective Self-Marketing on LinkedIn" you will find many tips for optimizing your profile and how you can use the network even more effectively. You can choose between a Kindle version and a printed book version. Or contact me if you are interested in one individual consultation hour to have.
Please write to me if the explanations in my article were useful for your LinkedIn activities!
This post was updated in February 2017 and May 2018.
CategoriesLinkedIn, social media advice, tips and tricksTagsOrder processing agreement on LinkedIn, data processing agreement, data protection, DPA, GDPR, LinkedIn, networks, non-public profile, public profile, privacy, privacy settings, social media, two-level security level