How Corporate Video Can Help Your Business
Video Marketing - How SMEs Make the Difference with Company Clips
As a small company that today wants to win new customers via the Internet, there are two important decisions to be made. First, the funds must be freed up for an economically justifiable marketing budget. Second, and much more difficultly, it is necessary to determine how these resources can be used most effectively. Our recommendation: film and video as a marketing tool! Like no other medium, entrepreneurs can convince interested users of their products and services and send targeted messages to customers and new customers. In an extensive series, we therefore want to convince you of the idea and the many advantages of your own company video and also demonstrate exactly how you can get your own company clip even with an extremely low budget.
Sure, companies have been using commercials since the beginning of the moving image and their advertising messages are presented to us by the thousands every day during the (far too numerous) TV commercials and before cinema screenings. So the idea is absolutely not new. However, with the massive spread of broadband Internet connections and cell phones with high-speed network capacities, the medium of video has also found its way into our computers and mobile devices. And this is exactly where the cards are completely reshuffled!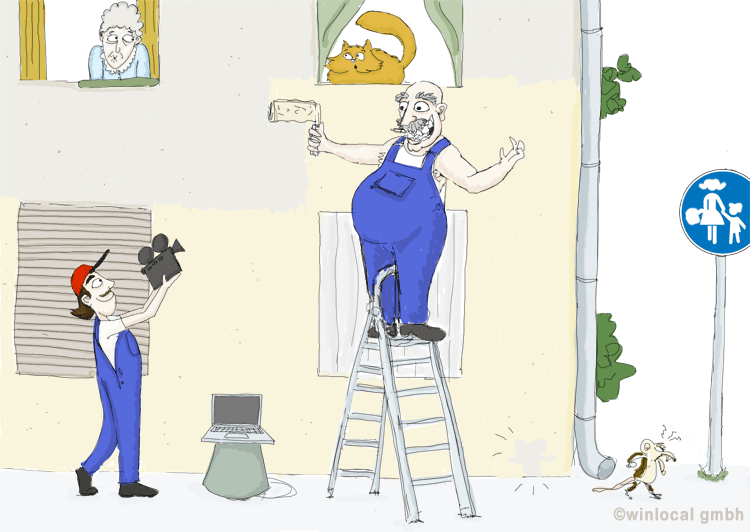 Because unlike in the highly competitive TV advertising market, online video can be accessed anytime and anywhere. Where small companies on TV could otherwise only afford a short broadcasting slot on regional television, the effectiveness of which could only be guessed at, there is enough niche-relevant space for all small and large "players" in the endless expanse of the Internet. Entrepreneurs, company founders, service providers and local shopkeepers can now communicate their messages effectively with little time and money and with a little skill, good planning and a little flair for the right style, a multiple of earnings, word of mouth and attention from generate potential new customers.
The three big unknowns of video marketing for local businesses: cost, benefit and methodology
If you talk to entrepreneurs who want to give their online marketing a boost and are on the lookout for the best strategies, you usually only get intimidated, soothing or dissuasive comments on the subject of company video, such as "... with twice the budget maybe, but not in our situation "," ... that looks very amateurish "or" ... we have neither the know-how, nor the time or the means ". All perfectly understandable positions - even if unfortunately no longer entirely up-to-date.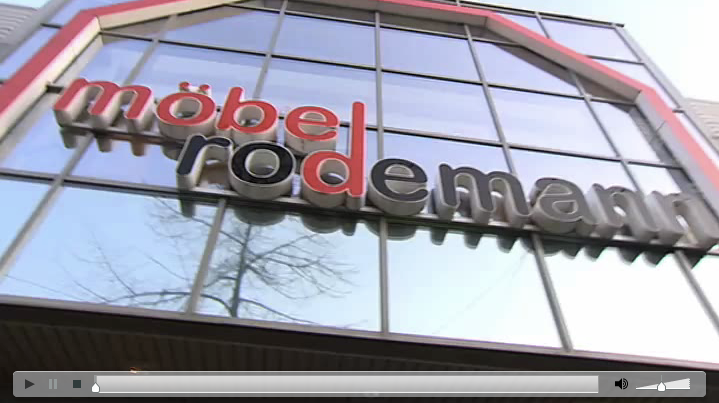 Because the technology necessary for a decent commercial is not expensive to procure, nor are highly paid specialists necessary for creating and distributing it. In the course of this series of articles (which consists of a total of 5 parts) we will familiarize you with the necessary tools and possible approaches that will enable you to create your own image film or use the medium of video naturally in marketing -Mix to integrate your company. So that the question is answered: How does the master painter get passable (not embarrassing) film material about himself and his company with the already completely planned budget and use it effectively to win new customers / orders on the Internet?
The costs can be reduced to a minimum of approx. Limit 100 € (+ the time you invested), because if you like, you can only create a company video with your smartphone and a laptop - we will show you exactly how to do this in the course of the series. Of course, a clip made with a € 1500 camera can look better than one made with your Iphone / Android. However, the procedures change only marginally and it will be the content that ultimately matters. An informative / original / funny / innovative video has the potential to go a long way on the Internet. You don't need an advertising agency for this, just a little hard work and a suitable one methodology (not that anything about an advertising agency would be reprehensible ;-)).
How can online video help your business shine and generate revenue?
We have come to the third and probably most interesting point. The question of the potential Use of online video. In addition to the benefits already mentioned, such as an improved external image, additional attention and a certain aha effect that can still be generated today when small companies come up with videos, there are a number of other motivations that online video guru Mark Robertson in his blog ReelSEO summed it up nicely:
Moving images evoke emotions "A picture is worth a thousand words" ... 1 second of video consists of around 25 pictures ... do the math. As a means of communication, online video addresses the user directly and is more likely than other forms of advertising to evoke emotions that the viewer remembers and that prompt him to react. While our so-called executive brain areas tend to respond to texts, the emotional part of the brain reacts to information and feelings that are conveyed, for example, via video - at the same time this is also the place in the brain where most decisions are made.
Video improves your position in the search engines Your chances of showing up in search results when searching for a customer are dramatically increased by the presence of video content on your company website. And not only that: properly optimized, your videos will also be displayed in combination with links to your website in the search results of Google and on Youtube (i.e. the most popular and the second most popular search engine in the world ;-)). The results that come with a video are real click magnets, as users are usually more likely to click than normal text results. In the 5th part of this series, we will go into detail on how you can best optimize your finished company video for search engines and market it profitably.
Videos can become a sure-fire success You have surely come across the term: When videos become 'viral' content that - triggered by a certain multiplier (for example an influential online journalist) are shared en masse and thus receive thousands of clicks and views. Viral videos are often gratefully picked up by traditional media and so one or the other promotional video can suddenly be found on TV. Pure Marketing Gold! While this is hard to do yourself, it helps a lot if your video is in some form funny and entertaining.

Have you already had video marketing experience with your company? Are you satisfied with the results? Tell us in the comments! We would be particularly happy to receive links to your own company videos or company clips that you noticed positively
Posted in How To, Useful Info, Video Marketing