Is Shiva Paramatma or just a god
THE FIRST LETTER FROM A PRIEST
TO SHRI MATAJI PARAMATMA MAHADEV SHIVA
October 13, 2018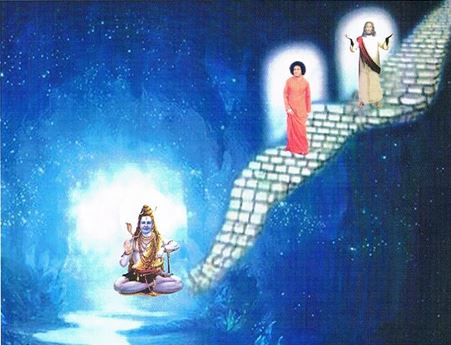 Dear devotees,
OM NAMASHIVAYA
JAY JAY MATA
This is my first letter.
I am very excited to express my feelings
and ask some questions.
I was born in a brahmin community
and work as a SHIVA temple priest for 20 years.
My father also worked for temples.
Fortunately, I met Vanaja and
we exchanged views over many
DIVINE things and experiences.
Vanaja is witness to some MIRACLES.
In fact, a COBRA bites every minute
when she sees people.
But when the COBRA entered Vanaja's house,
she was silent and moved straight to the
Prayer room.
This clearly describes
that it's not just a COBRA ...
but something special ...
OM NAMAH SHIVAYA,
DEAR PRIEST
GOOD - VERY GOOD - RECEIVING YOUR LETTER.
YOU HAVE SHRI MATAJI PARAMATMA MAHADEV SHIVA
YOUR HEART'S QUESTIONS ASKED ...
VERY GOOD - THAT YOU DONE IT -
IT SETS YOU AND OTHER PEOPLE FREE ...
How does the COBRA know the ANDACHTS room?
Is the COBRA SHIVA or some kind of precious snake?
Why did the COBRA come to Vanaja`s house?
What is the special reason?
SHIVA:
THE DIVINE COBRA -
MY CONFIRMATION OF LOVE
THE COBRA CAME TO PROTECT VANAJA -
MR. GRANT REDDY AND THE CHILDREN
THE COBRA IS SHIVA'S COBRA -
SHE KNOWED WHERE THE PREDICTION ROOM
IN VANAJA'S AND MR REDDY'S HOUSE IS
And I was told it was
There are 3 previous lives of Parama Shivam.
When I was in the DIVINE meeting
many priests came from all over India.
After Vanaja in her own words
PARAMA SHIVAM had addressed,
everyone was amazed and listened attentively.
She told about MATAMMA **, THIMMAMMA **
and MEENA MA´S DIVINE journey
for the people on this earth.
Two aghories have also been on this one
SHIVA meeting attended.
When leaving ... they said:
What Vanaja said is 100% correct.
SHE - MATAJI PARAMATMA MAHADEV SHIVA -
had more previous lives
in Egypt, Peru, Israel and around the world.
YOUR willpower is great and greatest.
We have no words to explain.
But many answers will be revealed from HER.
SHE has no more lives.
SHE will be in ETERNITY.
With YOU - MATAJI PARAMATMA MAHADEV SHIVA -
everything is possible.
SHIVA:
YES ... THE TRUTH ...
THIS IS PARAMATMA SHIVAM'S
23.LIFE ON EARTH ...
Have around the AVATAR
the followers no pure heart.
They always expect something NEW and
like to fight against YOUR -
MATAJI PARAMATMA MAHADEV SHIVA` S -
PATIENCE.
But they all have to pay for it !!
SHRI MATAJI PARAMATMA SHIVA'S LOVE
will affect all the DARKNESS
expand and bring the LIGHT.
SHIVA:
TRUE DEVOTEES SHOULD ALWAYS
PURIFY YOUR HEARTS
YOU SHOULD FOLLOW SHIVA'S DIVINE WORDS -
AND NOT AGAINST GOD
FIGHTING DIVINE LIGHT ...
YES, THOSE WHO DO WRONG
HAVE TO RESPONSIBLE FOR THIS BEFORE GOD.
MY POWER OF LOVE DESTRUCTES THE UNGOOD
AND CREATES NEW LIFE
The first TEMPLE of PARAMA SHIVAM will be
built in SOUTH INDIA.
SHE - SHRI MATAJI MAHADEV SHIVA -
has KALACHAKRAS -
HOLY DIVINE CHARACTERISTICS - on YOUR FEET.
Nobody can stop the construction.
The time has come to start working with the PARAMA SHIVAM TEMPLE
to go ahead.
The last words from the 2 aghories:
We accept PARAMA SHIVA is GOD.
SHIVA:
OM NAMAH SHIVAYA - I AM HAPPY
After this little conversation
the aghories went outside.
I didn't want to tell these words to anyone.
I was a little scared to share.
Nor did I even tell Vanaja.
I would never have met anyone about GOD this way
spoken. This is a strange feeling and
a little confusing to understand.
But one is for sure.
The aghories accept PARAMA SHIVAM
as their lover GOD.
SHIVA:
WHEN LOVE FLOWS
WHEN THE RADIATION OF LOVE
THE HEARTS OPEN,
THEN THE WAY IS BLESSED -
THE PATH TO DIVINITY
Vanaja told me
that PARAMATMA the whole meeting
the SHIVA priest might have been watching.
And I also had the feeling
that someone was sitting behind me.
SHIVA:
YES YOU ARE RIGHT -
MY SPIRIT WAS AT YOUR MEETING ...
I AM HERE IN GERMANY,
HOWEVER, MY SHIVA SPIRIT IS IN COSMOS
OR WHEREVER I WANT TO BE ...
I have peace while doing GOD'S work.
Every priest will think the day will come
where he sees SHIVA and
then goes away with one last breath
SHIVA:
I HAPPY TO PAST MY GRACE
ABOUT ALL WHO WANT TO DRINK MY DIVINITY.
I can't forget the miracle
that a man came to me during the rain and helped me. ***
I am very grateful to PARAMASHIVAM.
SHIVA:
"THE MAN" WHO WILL YOU ON HIS MOTORCYCLE
LEADING HOME, WAS GOD SHIVA -
ONLY GOD KNOWS WHERE HIS FOLLOWERS LIVE ...
YOU DIDN'T TELL IT TO "HIM" ...
The sound of the grand piano is a wonderful experience.
I also got an answer from SHIVA.
SHIVA:
IN VISIONS YOU HEAR THE SOUNDS OF
EAGLE WINGS
ALSO VANAJA, WHO VISITED YOU -
HEAR THE SOUNDS OF THE WINGS ...
SOUNDS OF THE WINGS OF EAGLES
MEAN LIBERATION -
AFFECTED WITH MY SPIRIT
All priests collect donations for
the floods
in Kerala and Tamil Nadu.
The flood came into the
MADHURA MEENAKSHI TEMPLE.
All pilgrims suffer and couldn't understand
how did the water get to the temple?
SHIVA:
TOO MANY PEOPLE ARE NOT GOOD
IN YOUR HEARTS
BAD THOUGHTS - BAD ACTIONS
BRING DARKNESS TO THIS WORLD
MOTHER EARTH MUST RESPOND ...
GOD CLEANSES THIS WAY
AND MAHADEV SHIVA WEARS PHYSICALLY
YOUR BAD ACTS AND DEEDS ...
Meenakshi Temple is very famous in India.
But why do all these natural disasters happen
in the world?
Almost 4,000 people died in Indonesia.
A SHIVA TEMPLE was also buried
with water and clay.
I am very happy doing some things in my life
and SHARE DIVINE EXPERIENCES ...
SHIVA:
WONDERFUL - DEAR PRIEST ...
EVERY EXPERIENCE COMMUNICATED
HELPS THE DOUBTS, SEEKERS,
AND BRING DIVINE EVIDENCE
INTO THE HEARTS ...
Some more priests will come on Monday.
We are going to talk about PARAMA SHIVAM
I will invite Vanaja.
She can share her experiences.
Please tell me. I have no goal.
SHIVA is my goal
SHIVA is my life.
SHIVA is everything to me
Please guide me as I serve the priest
and accomplish service in the temple
I need some free time
more time with SHIVA
to be able to spend.
SHIVA:
YOU WILL SEE WHAT HAPPENS
I'LL HELP YOU ...
I only speak Telugu language
and it's very sad
that I cannot communicate directly.
Thank you so much for the BLESSING and that
YOU have come into my HEART.
Can I at least once a month
write to YOU ​​GOD?
SHIVA:
YES, YOU CAN DO THAT
THE TIME IS NEAR
ALSO THE DIVINE FATHER
SHRI SWAMI SATHYA SAI BABA
AND MY DEAREST HUSBAND
SHRI SWAMI JESUS ​​CHRIST
TO WELCOME -
THEY COME TO EARTH FROM THE COSMOS
IN FLESH AND BLOOD

With much love
priest

I SEND YOU MY LOVE
AND MY BLESSING
MATAJI MAHADEV PARAMATMA SHIVA

Facebook and website:
* MAHADEV SHIVA`S COBRA IN MY HOUSE
May 27, 2017
** SHIVA`S DIVINE DECLARATIONS
TO THIMMAMMA AND MATAMMA
August 03, 2018
*** SHRI MATAJI MAHADEV SHIVA
PROTECT AND SAVE THE SUPREME PRIEST
FROM THE DEVASTAANAM TEMPLE IN HYDERABAD
September 30, 2018
Comments :


OM NAMAH SHIVAYA, HIGH SHOULD YOU LIVE
DEAR MOTHER SHRI MATAJI MEENA MA MAHADEV SHIVA,
I AM SO GRATEFUL FOR YOUR DIVINE LOVE
AND YOUR DIVINE HELP TO MY BROTHER JOHAN,
HOW YOU HELD HIM, DEAR MOTHER OF GOD!
STRANGE THINGS HAPPENED
THAT YOU CAN ONLY EXPLAIN AS A MIRACLE,
BY YOUR LOVE AS MOTHER AND GOD,
YOU ARE IN REALITY!
MY BROTHER'S OPERATION WAS VERY WELL,
HE HAD VICIOUS CANCER ON THE NECK / THROAT.

AFTER 3 DAYS HE REQUIRED FROM THE INTENSIVE UNIT
TO GO TO THE NORMAL STATION, THEN AN ASSISTANT WILL ARRIVE WITH A BED FOR HIM TO TRANSPORT,
THEN HE SAID I LOOK LIKE I CAN'T RUN?
THEN HE WENT TO THE NORMAL WARD ALONE AND FELT EVEN STRONGER, EVEN THE DOCTOR CONGRATULATED THAT EVERYTHING GOED SO GOOD UNEXPECTEDLY, HE NEEDED NO RADIATION!
ALL THANKS TO YOU, DEAR MOTHER!
YOU CAN PROTECT AND HELP YOUR CHILDREN IN THIS WAY
ONLY YOU - YOU ARE THE GODDESS, WHO CAN TRANSFORM EVERYTHING INTO LOVE FOR ALL HUMANITY, FOR THOSE WHO HAVE YOUR HEARTS OPEN!
YOU CAN FEEL YOUR HEART OPEN EVERY DAY.
IT IS NOT A SADNESS, LIFE IS NO LONGER HARD,
YOU HAVE NO ENEMIES, YOU HAVE NO MENTAL PAIN -
EVERYTHING WITH THE THOUGHT OF YOU - DEAR MOTHER AND
SHRI MATAJI MEENA MA MAHADEV SHIVA -
IS EASIER TO TRANSFORM INTO A NEW LIFE
OF HAPPINESS, HEALTH, INNER PEACE AND FREEDOM
IN THE NEW PARADISE ON EARTH, ONLY BY YOU
IS CREATED, AND FOR THOSE WHO HAVE THE HEART OPEN
TO BELIEVE IN YOU IN LOVE THAT YOU ARE GOD AND
YOU CAN DO ANYTHING!
WHAT FUN HAPPENS ALSO HAPPEN: MY BROTHER JOHANN, AS HE WAS AFTER 5 DAYS FROM THE OPERATION, THOUGHT HE CAN CELEBRATE HIS HOSPITAL AND WENT OUT OF THE HOSPITAL TO A KIOSK NEAR THE HOSPITAL AND DRINKED A BEER COULD NOT BELIEVE THAT ... BEFORE HE WAS OPERATED, HE WAS A SICK MAN WITH NO HOPE, WITHOUT STRENGTH, WITH MANY FEAR AND WHEREVER YOU WERE WITH HIM, MOTHER SHIVA, YOU MADE A MIRACLE, I AM THANK YOU MY HEART HAS RISEN ALSO - I HAVE BECOME A NEW SISTER TO MY BROTHER, I CAN NOW TAKE MY DEAR BROTHER, THAT I CANNOT DUE TO MY EGO, NOW I HAVE TEARS FOR HIM TOO, IT IS AND FEEL OTHER INTO THE NEW LIFE!
THANK YOU DEAR MOTHER FOR THE WONDERFUL MESSAGE FROM DEAR PRIEST SHANKARANANDA AND ALL WHO ARE NEAR YOU IN LOVE LIKE DEAR SHRI SWAMI JESUS ​​CHRIST YOUR DEAR HUSBAND AND DEAR GOD FATHER SHRI SWAMI SAI BABA! I TEND IN LOVE TO YOUR HOLY FEET IN GRATITUDE AND HAPPINESS AMEN!
MUCH LOVE FROM ME
M.C.
Romania - Germany
OM NAMAH SHIVAYA
DEAR MAGDALENA,
LOVE - ONLY LOVE CAN BE THE SURGEON IN A LIFE
GOD'S LOVE CAN BRING THE CHANGE - UPLIFTING AND HEALING
IN LOVE
MATAJI MAHADEV SHIVA
Sai Ram, dear M., yes, as you know, I feel very connected to Shri Mataji and I pray and feel with her. When I got sick years ago, Shri Mataji also helped me and still supports me today and I am very grateful for that. People's hearts should open more and more and care for what is good together.
https://www.youtube.com/watch?v=8QAjsAV2IbI
Om Sai Ram dear U., thank you for your open heart! Thank you also for the divine messages that you post, it is very important and good to know in these times ...
OM NAMAH SHIVAYA! LIGHTFUL TIMES FOR ALL OF US! GOD'S BLESSING!
M.C. Romania - Germany
Sai Ram, dear Magdalena, yes, as you know, I feel very connected to Shri Mataji and I pray and feel with her. When I got sick years ago, Shri Mataji also helped me and still supports me today and I am very grateful for that. People's hearts should open more and more and care for what is good together.U.B.
Germany
Link: youtube.com
Everything that comes from you, that's me