Angola What are some good Angolan films
Angola's President: "We were all part of the system"
DW: Mr. Lourenço, a few weeks ago the Luanda Leaks revealed how hundreds of millions of US dollars had been channeled from government funds into private companies in Angola. One of the main suspects is Isabel dos Santos, the daughter of the former president. There are now rumors that she is negotiating a deal to repay some of the money. Are such negotiations taking place?
João Lourenço: There are no negotiations. And there will be no negotiations. People involved in this type of corruption have had a six month period to return any assets they have illegally removed from the country. This grace period expired in December 2018, now we are in 2020. Those who did not take this opportunity now have to face the consequences.
The documents that leaked were clear. Do you want to see Isabel dos Santos behind bars?
I would prefer not to answer that. It is a matter of justice and I am not a judge.
Many of the documents indicate that business was carried out in the knowledge of the former President José Eduardo dos Santos, sometimes even on his instructions. For example, there are presidential decrees to sell properties below their value to Isabel dos Santos companies. Why don't you take legal action against the former president?
You should know our legislation. Former presidents are immune for at least five years after their term of office has ended.
Would you consider investigating his activity after that time?
It is up to the judiciary, not politicians, to prosecute people. The judicial system investigates suspected crimes. It is the job of politicians to ensure that the judiciary is free and able to act within its competences. The president doesn't send people to court. I wouldn't even have time for that. There are many cases in this country.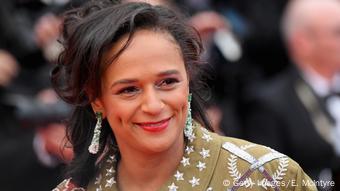 According to the US magazine "Forbes", the richest woman in Africa: Isabel dos Santos
Opposition officials say the judicial system is not as independent as you pretend it is very well controlled by the government. What's your answer to that?
That may have been the case in the past. But not today. Today they have absolute freedom of action. That is why there are so many lawsuits, especially those related to corruption.
Under Dos Santos you were general secretary of the ruling MPLA party and defense minister. You knew the former president very well. Why didn't you bring up all of this criticism during this time?
It is true that I worked under President José Eduardo dos Santos. We all did. He stayed in power for almost 40 years. Nobody can say that he or she was not part of the system. We were all part of the system. But those who are better able to correct what is wrong - and improve what is good - are those who know the system inside out. It has happened that way with all revolutions, if we want to call it that.
If you say you have been part of the system for a long time, you must have been aware that it was a very corrupt system. Because that's what the documents are showing us now, and even your own investigation shows that.
Precisely because I saw this high level of corruption - and because I think that this situation shouldn't go on like this - we are fighting against what we have seen for decades. It might be convenient for us to leave things as they were before. But would that be correct? We now have the chance for change. And this is the right time for it. We know it takes a lot of courage. And we face some resistance. But we would rather fight that resistance than leave things as they were before.
The interview was conducted by Adrian Kriesch.