Have homeless people access to water
With spikes and water jets against the homeless
It is a daily struggle for a decent life. Torsten Meiners has not had a permanent address for ten years, lives in abandoned houses, emergency shelters or on the streets. In the middle of Hamburg, one of the richest cities in Germany.
For him, the descent from a regular life with a job and a permanent home to homelessness went very quickly. About ten years ago he could no longer pay his rent, his gambling addiction had resulted in debts, and a depression robbed him of all courage to face life. "Right at the beginning of this depression and homelessness, I slept in a park." He got food from a nearby gas station, where he cleaned the toilets and got food that wasn't sold. By collecting returnable bottles, he also got some cash. Later he mostly used empty houses as sleeping places.
Divided society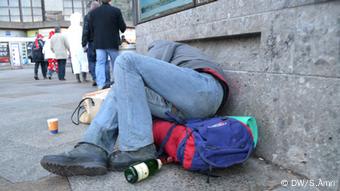 Sharp increase in recent years - homeless in the city center
Actually, in a country as rich as Germany there shouldn't be any noteworthy number of homeless people. According to calculations by the German Institute for Economic Research (DIW), private households had net assets totaling 6.3 trillion euros in 2012. So that was 83,000 euros per adult. However, according to the study, there is no other euro country where wealth is as unevenly distributed as in Germany. A good fifth of all adults have no wealth at all, and around seven percent have more debts than their possessions.
BAG Homeless Aid (BAG W), the umbrella organization for German homeless aid, has noticed a drastic increase in homelessness in Germany in recent years: in 2012, around 284,000 people did not have a permanent address - an increase of around 15 percent compared to 2010. predicts a further increase in homelessness by around 30 percent to 380,000 people by 2016.
Combating the poor - not poverty
The already tough life on the street has not gotten any easier for Torsten Meiners in recent years. Because instead of help and support, he often encounters rejection and reprisals - also from the city. Years ago, for example, a fence was built under the Kersten Miles Bridge in the St. Pauli district to keep homeless people away from the popular sleeping place. "Then there were public protests because it was said that we do not want such exclusion," reports Meiners. This briefly led to the fence being dismantled again. But since a fire in the spring of 2013, scaffolding has been blocking the area near the Reeperbahn. "The construction site will stay there for the foreseeable future because the conflict is no longer wanted." An actual renovation is not taking place there, however.
Warns of social division - poverty researcher Christoph Butterwegge
According to Meiners, homeless people are also regularly chased away by the security personnel at the main train station. Christoph Butterwegge, poverty researcher at the University of Cologne, has also identified reasons for this: "The railway stations are being economized and commercialized, and these are increasingly being expanded into consumer temples with siding. The responsibility is passed to a private company. That then cleans up and leaves the poor and homeless no more space to spend the night in any corner of the train station. "
Nightly shower
A particularly aggressive form of eviction took place a few years ago in the entrance area of ​​the department store of a large fashion chain. At night, water was sprayed onto the area in front of the entrance door through small nozzles in the wall. Those who camped there for the night were roused from their sleep and soaked through. At the beginning of this year, the same procedure took place in front of a branch of the fashion house in Münster. According to the company, the measure should not result in the displacement of homeless people. It is only about cleaning the area. In Hamburg, the nocturnal shower was stopped after protests.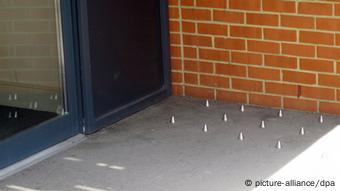 Reason for protests - metal spikes against the homeless in London
It is not only in Germany that homeless people find it difficult to survive in the cities. In London, the installation of metal spikes in the access area of ​​a residential building caused great outrage. The property management wanted to prevent people from settling in this area.
Torsten Meiners has no understanding for such measures. "You just can't deal with people that way." At the same time, however, he can also understand the concerns of business people and local residents. "If you go to work early in the morning and see that people - maybe even drunk - are sleeping in the entrances, then that is unreasonable for everyone involved." Therefore, one has to create solutions that to some extent do justice to everyone.
As a positive example, he cites an initiative by business people in Hamburg that provides lockers and a washroom for the homeless. Something like this contributes to an understanding togetherness and is positive for both sides.
Missed social policy
It would of course be best if a really stable social network prevented people from having to live on the streets at all. Because such a life is never really a voluntary decision, says Meiners. "If you got any offer, nobody would turn down." But on the tight housing market in Hamburg, where there is a lack of affordable housing, homeless people would have no chance.
Poverty researcher Butterwegge also blames the failed policy of recent years. "Instead of leaving housing policy more and more to private investors, the state would of course have to ensure that people do not become homeless - as it used to do with social housing projects." Instead, society is left more and more to the market, "according to the motto: If everyone thinks of himself, everyone is thought of. That is a social brutalization and neglect of society."