What makes a big quesadilla
Quick quesadillas
Share post
With the holidays ahead of us and the corresponding emergence of good German home cooking in mind, an article about this Mexican standard dish does not seem particularly appropriate. I am also looking forward to our roast with red cabbage and dumplings on Christmas Eve and would not consider quesadillas (pronounced: ke-sa-diijas) on that day.
But when the holidays fall as employee-friendly as this year and the weekend follows immediately afterwards, then I like to have a few things up my sleeve that save me from having to go shopping on the Saturday after Christmas.
Quick quesadillas as finger food
In this case, quesadillas are just the thing. The few ingredients can be obtained before Christmas and apart from the cheese do not take up any valuable storage space in the refrigerator. The mix of tortilla wrap and melted cheese is the perfect accompaniment to a salad or tomato soup. But they are also just delicious on their own.
When you're really hungry, a simple quesadilla becomes the main meal with crumbly fried ground beef or cooked chicken breasts. Fried strips of paprika, corn, beans, onions, spring onions or everything together are also great as a filling. Or how about cooked pumpkin and feta? Even a spinach and artichoke dip with extra cheese is a great way to have lunch on the table quickly.
So get yourself a pack of tortillas the next time you shop and you're ready for any eventuality!
Would you like more tips on how you can make everyday life easier and enjoy life more? Then just add yourself to the list of my newsletter recipients. You will be automatically informed about new posts and get extra tips about once a month that are not yet to be found here on the blog. You also get access to the VIP area, where you can find free eBooks and print templates as well as the downloads mentioned here.
Quantity: 3-4 pieces
Quick quesadillas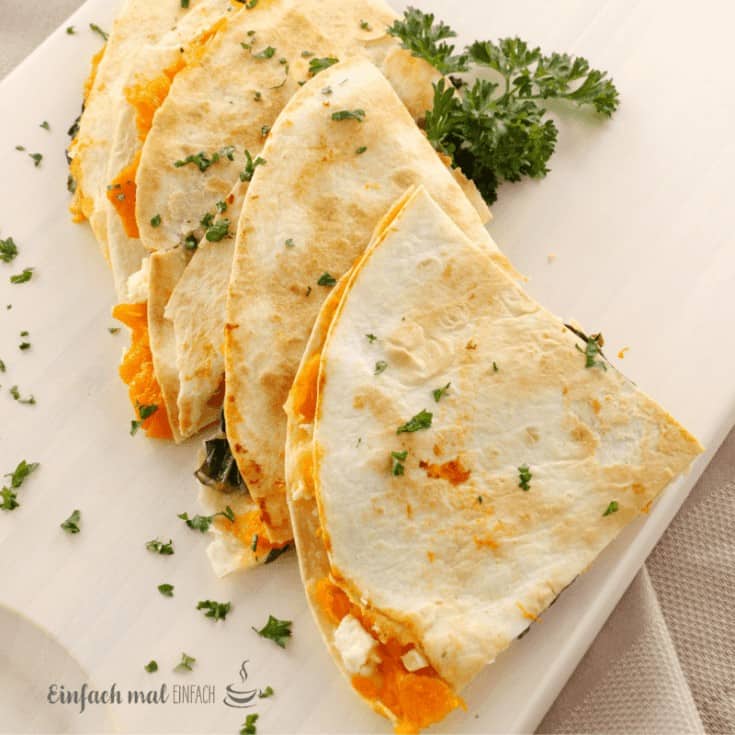 A delicious main meal or side dish that can be made super quickly with just a few ingredients.
ingredients
1 pack of tortilla wraps (wheat or corn) *
200 g (1 1/2 cups) grated cheese (preferably a mixture of Gouda and Mozarella)
preparation
Preheat a pan on medium-high. (It should be big enough that a tortilla fits most of the time.)
Place a tortilla in it and spread enough cheese on top that the tortilla is loosely covered with the cut out edge. If there is no further filling (see article), you can be a little more generous here, depending on your taste.
If necessary, spread more filling on top and wait for the cheese to begin to melt. Every now and then check with a spatula that the underside is nicely browned, but not black. If necessary, reduce the heat.
When the cheese begins to melt and the underside is slightly brown (only takes about 3 minutes), place a second tortilla on top of the cheese.
Let the quesadilla slide slowly onto a large cutting board. The easiest way to turn it is to cover it with a second cutting board and then turn it over with your hands. Then you can easily slide the quesadilla back into the pan from the former upper cutting board.
Brown the second side in the pan for about 2 minutes and then place the quesadilla on a plate or serving board. Cut into six pieces like large pieces of cake and enjoy warm.
Hints
* Depending on the package size, diameter and use, the amount of cheese and the number of servings that can be planned with a quesadilla varies. Without additional toppings, one can assume that a person will be fairly full with a quesadilla when using the large tortillas (approx. 28-30 cm in diameter). With the smaller sizes (16-20 cm in diameter) you can fight hunger with two quesadillas per person.
Share post
Tags
Tags
DinnerSide dishCheeseMexicanLunchFast